<strong>Affiliate Disclosure</strong>
This post may contain affiliate links. Clicking these links will redirect you to Amazon.com, and we will receive a small commission on purchases made through this link.
Acer is no stranger to premium gaming monitors, with their highly successful Predator lineup constantly being updated with the latest specifications. While a majority of their older Predator monitors are still being sold at a healthy rate (and still have relevant specs), there are a few new additions to the lineup that diversify the spec sheet even further.
These new models are labeled as XB3, XN3, and CG7 through official marketing, however they have specific model numbers if you want to find out how to purchase them:
XB3 = XB273K: 3840 x 2160 (4K) resolution + 120hz refresh rate (144hz OC)
XN3 = XN253QX: 1920 x 1080 resolution + 240hz refresh rate
CG7 = CG437K: 3840 x 2160 (4K) resolution + 120hz refresh rate (144hz OC)
Visit our G-SYNC / FreeSync Gaming Monitor Database to compare these monitors!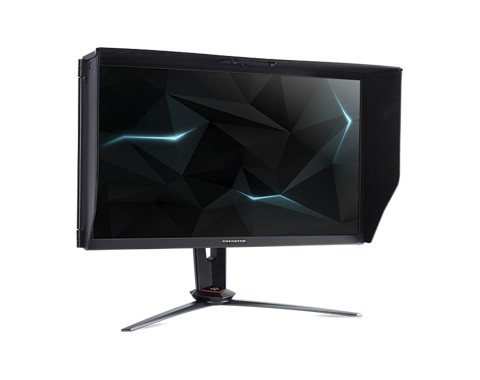 Acer Predator XB273K: 4K Resolution at 144hz
Acer has produced a few 4K monitors, however this is their first model that supports a higher refresh rate than 60hz. This monitor supports a native 120hz refresh rate, that can be overclocked to 144hz. Acer lists its response time as 1ms VRB, which stands for Visual Response Boost.
It's Acer's marketing term for 1ms MPRT, which many other manufacturers are adopting for their monitors under their own marketing terms as well. In this case, it allows the IPS display of this monitor to reach 1ms response time using a strobing backlight, as its native GTG response time is 4ms without it.
The panel does support HDR content, however its peak brightness is its core limiting factor: the native brightness is 350 nits, with the peak brightness hovering around 400 nits of max brightness. For HDR content, you typically want a display that can achieve around 800-1000 nits of peak brightness, to really make those highlights pop when they count. With that said, the main selling point of this monitor is the 144hz during 4K content.
Most graphics cards, including NVIDIA's top of the line 2080 Ti, will be unable to reach this high refresh rate with maxed out settings, so this is something you want to pursue if you're willing to dial down settings, or possibly SLI the card. This limitation should deteriorate over time as newer GPUs hit the market that are capable of reaching 144hz at 4K.
In terms of variable refresh rate, there are two versions of this model that serve different purposes:
If you're a NVIDIA user, you want to stick to the XB273KP as it will give you the best VRR performance when compared to the XB273K GP. However, if you're someone that switches between AMD and NVIDIA GPUs based on raw performance per dollar, then the GP model will be better suited for your needs.
Acer Predator XN253QX: 1080p at 240hz
A lot of 240hz monitors have launched over the last couple of years, and they are the current favorite for esports competitors, for good reason: they offer the lowest input lag and clearest motion resolution when compared to 144hz monitors. Timing is everything when it comes to competing for big money.
If you already own a 240hz monitor, then there isn't a real need to upgrade to Acer's version, unless you're chasing the small differences between panels. It still sports a 1080p resolution, which is the norm at 240hz, along with a TN panel that isn't focused towards color accuracy. However, users of 144hz monitors will appreciate the reduced motion blur and lower input lag; it's certainly noticeable if you're conditioned to having instant response.
Being an esports focused monitor, the XN253QX sports a 1ms GTG response time, which is common for TN panels aimed towards serious gaming. Many 240hz monitors are 1ms GTG, however there are big differences in how its implemented among manufacturers. This monitor is also capable of reaching 0.4ms GTG response time when overdrive is fully engaged.
Before you consider purchasing this monitor, there is another monitor that shares a very similar model number to this one, and it has drastically different specs:
Both of these monitors include a G-SYNC module with a VRR range of 1~144hz and 1~240hz respectively. The X model is the newer version that supports 240hz refresh rate, so keep that in mind before you place the order!
Visit our G-SYNC / FreeSync Gaming Monitor Database to compare these monitors!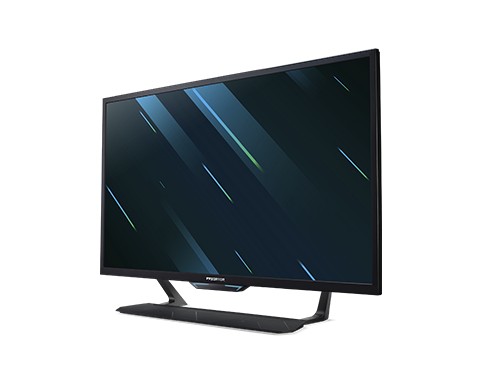 Acer Predator CG437K: Big Screen 43″ at 4K 120hz (or 144hz)
So here is Acer's grand-daddy display that's sure to put a dent on your wallet. The CG7 is Acer's newest 4K monitor that supports 120hz refresh rate. This behemoth is carries a DisplayHDR certification with 1000 nits of peak brightness, three HDMI 2.0 ports, two DisplayPort 1.4 ports, and 1ms VRB response time.
The 120hz refresh rate is actually overclockable to 144hz, though you will need to utilize two DisplayPort 1.4 connections to achieve it. It boasts a VA panel, which tends to reproduce deeper blacks than IPS and TN panels, though it may not be as accurate as IPS when it comes to color reproduction. Still, it's a big improvement over TN across the board in terms of image quality.
The CG7 is a G-SYNC compatible display, meaning it doesn't have a dedicated G-SYNC module. It does support adaptive-sync/FreeSync through it's HDMI 2.0 ports as well, making it an ideal pairing for Xbox One consoles as well. Its VRR range is 48~120hz, so you'll want to avoid dipping below 48 FPS in order to maintain its VRR benefits.
Its listed MSRP is around $1,499, though you might be able to find it cheaper on Amazon.