<strong>Affiliate Disclosure</strong>
This post may contain affiliate links. Clicking these links will redirect you to Amazon.com, and we will receive a small commission on purchases made through this link.
Another year, another set of TVs to wade through to find the best one for gaming! It's quite shocking to see how much TVs have improved since this website's inception back in 2013. Back then, finding a TV that fell into our "Excellent" category was akin to a unicorn, with this category being dominated by cheap gaming monitors. You essentially had to choose between low input lag with a cruddy image, or something pleasant with unbearably high lag.
In 2019, it's more difficult than ever to find a TV that actually has a lot of input lag. This is a remarkable achievement by TV manufacturers, and great for gamers too: you can finally start to focus on getting the best picture for your buck, without worrying too much about input lag ruining your purchase. This is where this guide comes in handy: we've checked out tons of TVs this year and will give you our top picks for 2019, within most budgets.
For those that don't know, input lag is the amount of time it takes for a display to process a button input while gaming. If you value your gaming experience, you want to avoid displays that exhibit high input lag, as it makes your gameplay feel sluggish and unresponsive. Every display has input lag to some degree, however you want to stick to the displays we label as Excellent, as these displays provide the quickest response for serious gaming.
---
Best Overall Gaming TV:
Input Lag: 14ms – Excellent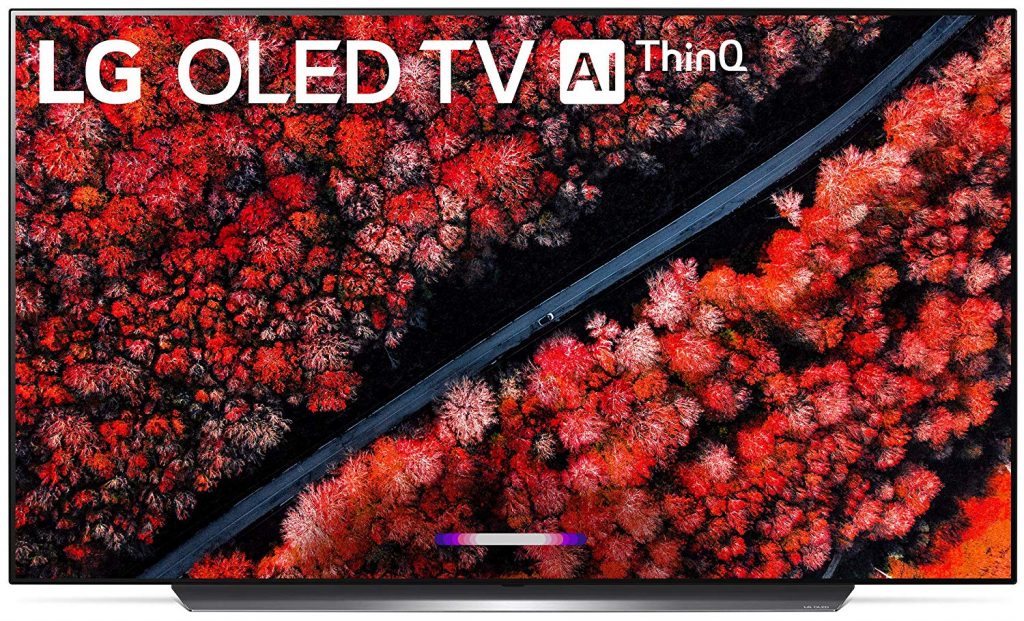 Not surprised? Neither am I. For the third year in a row, LG takes our top spot again as the best gaming TV for most people. This category would normally be a shootout between a bunch of LED TVs, mainly because they were the only affordable ones within most budgets, back when OLED TVs were in their infancy. A lot has changed over the years, even within the last 3 years!
For starters, I bought my own 65″ LG B7 OLED in the fall of 2017. It had 21ms of input lag, and I had to jump through hoops to get a good deal on it. Matter of fact, I tracked it down for around $2000 after tax. Keep in mind that this wasn't even the C7 model, it was their cheapest B7. In just two years, you can get the 65″ B9 for even less, with the 65″ C9 being a comparable price to what I paid a couple of years ago. Talk about bringing value to customers! Aside from price, LG have made tons of improvements to their 2019 OLED lineup across all areas that matter for gamers.
While the C8 was mostly considered an incremental upgrade last year, as it still sported 21ms of input lag, the B9 and C9 shatter this record convincingly, with both the OLED55B9 and OLED55C9 measuring at an extremely low 14ms of input lag. This is just 4ms shy of the very best 60hz gaming monitors you can find today, and it will provide an excellent high-level gaming experience for most users. It's not just input lag that has improved this year, though.

New to 2019, LG's entire OLED lineup features HDMI 2.1, an important spec that's vital to gamers. While some TVs were able to add a few HDMI 2.1 features in HDMI 2.0, the core of HDMI 2.1 involves support for variable refresh rates, as well as more bandwidth to support 8K at 60hz, and 4K at 120hz. PC users have enjoyed VRR for many years now, as it eliminates stuttering caused by V-SYNC, while lowering input lag.
It's a huge deal for serious gaming, and I highly recommend experiencing it if you haven't already. The good news is that both the LG B9 and C9 are also certified by NVIDIA for G-SYNC compatibility, meaning you can enjoy these benefits as a NVIDIA user too! Even though NVIDIA officially supports LG's 2019 OLED's, the TV doesn't have native FreeSync capabilities, so VRR support is limited to the Xbox One and NVIDIA GPUs. AMD FreeSync is not supported on LG's 2019 OLEDs. While there aren't any mainstream HDMI 2.1 sources yet, LG have confirmed that the C9 does support 4K 120hz from external sources. There isn't official confirmation of the B9 supporting this, even though it is HDMI 2.1 compliant, so it's a waiting game at this point.
In terms of image quality, OLED is a vast improvement over conventional LED TVs, and the difference can be seen side-by-side quite easily. OLED TVs are able to produce perfect black levels during dark scenes, deep contrast ratios as it can control the backlight of individual pixels, and also have the smoothest motion response for fast-paced gaming. If you already own a LG OLED from the last couple of years, you won't see a huge improvement in image quality, however the abundance of new gaming features make the upgrade worth it, in my opinion.
So, why did I recommend the C9 over the cheaper B9, even though they're largely the same TV? It's mainly due to quality of life issues. The C9 comes with a sturdier casing, has better speakers, better processor, and may also have improved quality control when compared to the B9.
There are reports online of some B9 units suffering from color banding and other imperfections, which leads me to believe that LG sources their highest-quality OLED panels to the C9 and above. It should hopefully result in less panel lottery for you guys. The biggest difference however, is that the C9 comes with their latest Alpha 9 Gen 2 processor, which isn't available on the B9. This doesn't provide any real benefits as of this writing, but it may in the future.
If you don't care about these differences, then feel free to spring to the B9 and save some cash. Assuming you got a good panel, there aren't any noticeable differences between the two in terms of image quality. Both TVs provide an amazing gaming experience, and you'll wonder where these TVs have been hiding your whole gaming life!

---

Best for Most Gamers:
Input Lag: 14ms – Excellent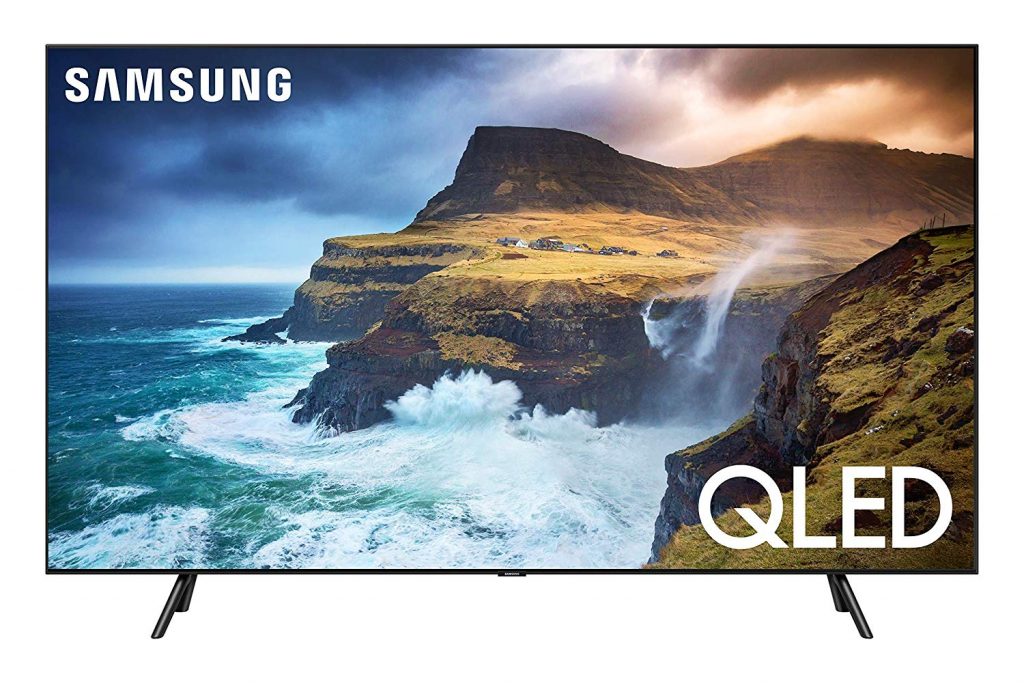 Samsung has once again graced our recommended list for 2019. Their Q6FN TV was an excellent choice for 2018, mainly due to being the only major brand to support low input lag, as well as FreeSync capability. LG didn't support any sort of VRR last year, and also had higher input lag, making Samsung an attractive option for the most serious gamers.
While Samsung doesn't enjoy VRR exclusivity along with sub-20ms input lag anymore, they still provide excellent price-to-performance ratio, as their QLED lineup can be significantly cheaper than LG's OLED offerings. It really boils down to what your price budget is, and whether or not you want to pay for the extra benefits that OLED provides.
Samsung has several QLED models this year, which include the Q50R, Q60R, Q70R, Q80R, and Q90R. That's a lot of models, and it can be quite confusing to know what the differences are. Heck, it even confused me when I covered them back at CES 2019. However, these differences are the reason I think the Q70R is the best option for most people.
The first thing you need to know, is that their entire QLED lineup supports low input lag. We tested the Q60R all the way up to the Q90R, and they all sported approximately 14ms of input lag. This is very consistent with their TVs over the last couple of years, so rest assured that input lag is not a problem with any of them.

With that said, the Q60R has noticeable downsides. It has edge-lit backlighting instead of the full-array backlight offered by the Q70R and up. The Q60R also has no local dimming, which is vital to hide black bars during movies, and to boost contrast ratios. The Q60R also has a peak brightness during HDR content around 450 nits, which falls short of HDR's recommended peak brightness levels.
The Q70R has a much higher HDR peak brightness around 800 nits, making it very comparable to LG's OLED offerings in terms of peak brightness. While nowhere near as high as the top LED TVs, it becomes hard to justify spending more for higher peak brightness in LEDs, when you can use the same cash to buy an OLED TV instead.
Samsung continues to support FreeSync this year for the Xbox One and PCs equipped with AMD Radeon GPUs. However, do keep in mind that the Q70R does not feature HDMI 2.1, and is not officially certified by NVIDIA to be compatible with NVIDIA GPUs for VRR. You will have to stick to LG's 2019 OLEDs to receive full HDMI 2.1 support.
There is a big reason to go with Samsung over LG's OLED though. While the pricing is comparable between 55″ and 65″ Samsung QLEDs and LG OLEDs, Samsung wins hands-down when it comes to the larger-sized TV market.
If you're a gamer that's looking to get a 75-82″ TV, Samsung provides the most affordable option for serious gaming. Simply jumping from a 65″ LG C9 to a 77″ LG C9 dramatically raises the price to around $5,000. Samsung, by comparison, offers the 82″ Q70R for around $2,500. That's huge savings if you're looking for a larger screen size, while wanting to retain excellent low input lag.
If these downsides don't apply to you, then the Q70R is a very balanced TV. The extremely low input lag and FreeSync support will satisfy most gamers. With the PlayStation 5 and next Xbox console sporting AMD chipsets, it's very likely that FreeSync will be supported in both consoles once they release.

---

Lowest Input Lag for Gamers:
Input Lag: 11ms – Excellent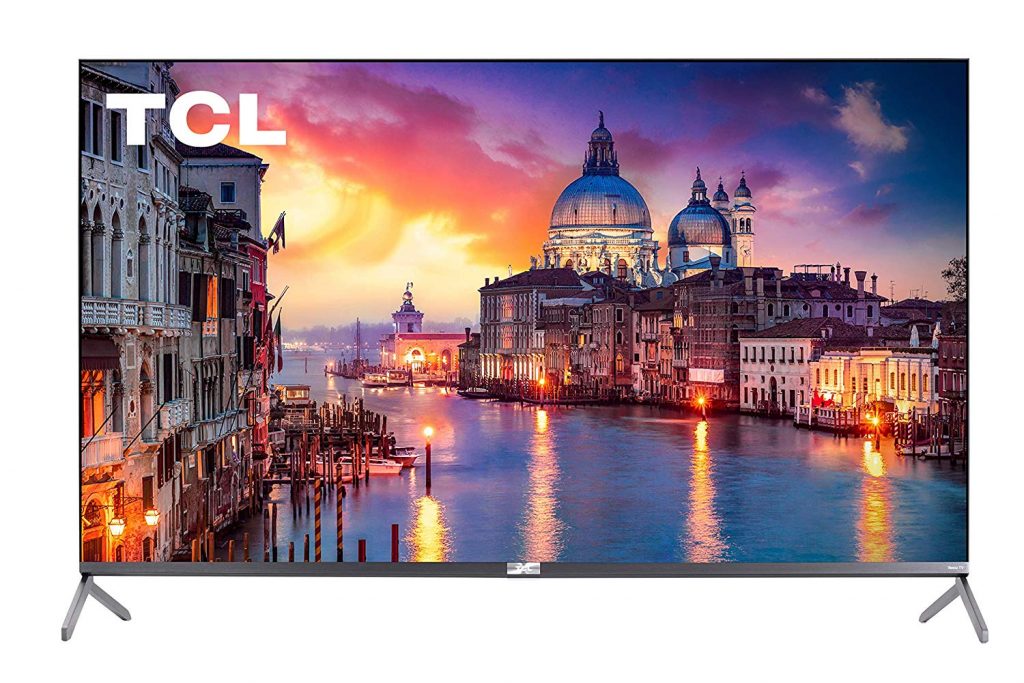 TCL made great strides last year with their R617, as it provided excellent HDR performance and low input lag at a very affordable price. It set a new bar for what affordable gaming TVs should strive towards, and TCL largely continues that tradition with the R625.
The main difference with TCL's 2019 R625 is the vastly improved full-array local dimming. Black uniformity and overall contrast ratio is much improved when compared to last year's model, which will make dark scenes in both movies and gaming more pleasant to look at.
TCL has also made signifcant improvements to input lag. While last year's model clocked in at approximately 19ms of input lag, TCL's R625 features an astonishingly-low 11ms of input lag under game mode, making it our fastest TV tested this year! If raw input lag performance is what you're after, then TCL's R625 should be on your radar.
The main downside with the TCL R625 stems with lower motion performance when compared to last year's R617. You may notice a bit more blur if you're coming from last year's model.

---

Best for Budget SDR Gamers:
Input Lag: 12ms – Excellent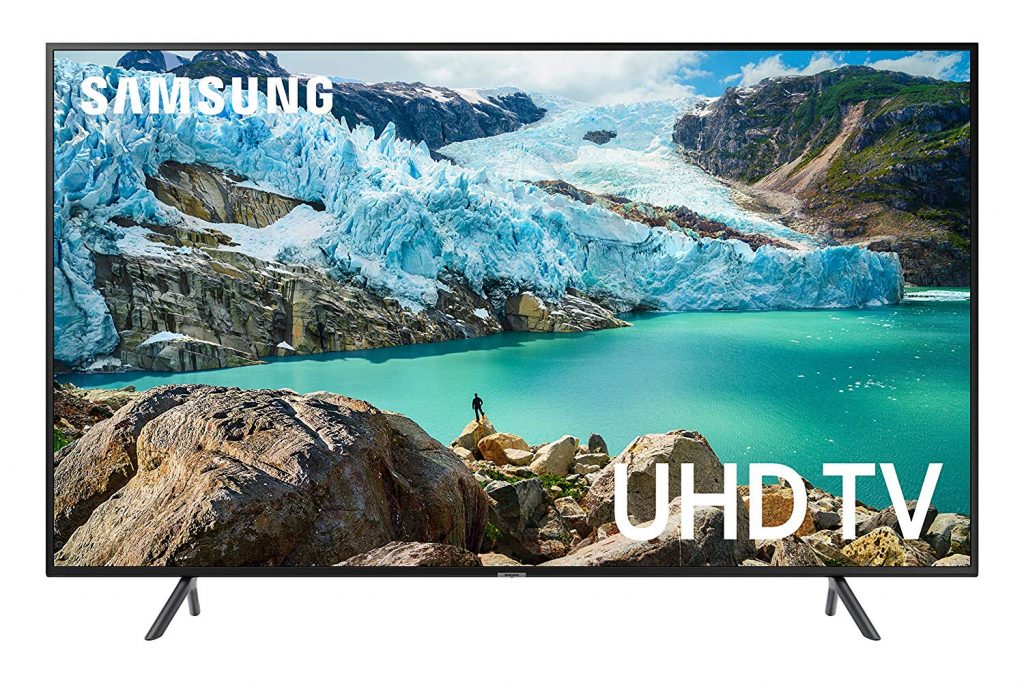 I'm going to get straight to the point here. If you don't care about HDMI 2.1, 4K 120hz, variable refresh rates, but want low input lag with 60hz sources, then the RU7100 is a strong challenger for your money. It's a very affordable option when compared to the TVs listed above, selling for well under $550 at most retailers.
Like all of Samsung's other offerings, the input lag is remarkable on the RU7100, tested at approximately 12ms of input lag. This low input lag number is just 2ms lower than the best 60hz gaming monitors, making it very difficult to feel the difference in technical gaming comparisons.
The main downside of this TV is the poor HDR performance, as it only tops out at around 300 nits in real-world usage. I do not recommend this TV for HDR content, as it won't display the full benefits of HDR. Rather, you should get this TV if price is your biggest factor, and if you're planning to use it mainly for SDR sources. Do keep in mind that unlike Samsung's QLED series, this TV does not support FreeSync/VRR either.

---
This concludes our top picks for gaming TVs in 2019! Feel free to leave a comment below if you own any of these sets and share your experience with them. If these TVs don't cut it for you, you can also visit our input lag database, with over 600 displays tested for input lag!