We can all agree that 2016 has been quite a wild year for most people. Gaming has grown to be an extremely popular way for many to enjoy themselves, and manufacturers are constantly being pressured to lower input lag in their latest TVs. When I first started this website, I didn't expect us to have so many options to choose from so quickly, and now we're at an age where almost every modern TV has much lower input lag than before. With 2017 TVs on the horizon, many of them announced at CES 2017, there's no telling whether or not they will be good for gaming.
With that said, these are our picks for the best gaming TVs that are still available to purchase in 2017. We measured the input lag on these TVs and found them to be great choices for serious gamers who value their input response. Be sure to check our recommendations below, as you will be able to find many of them discounted during this time of year. Get them before they're gone!
Best for Most Gamers: Samsung KS8000 Series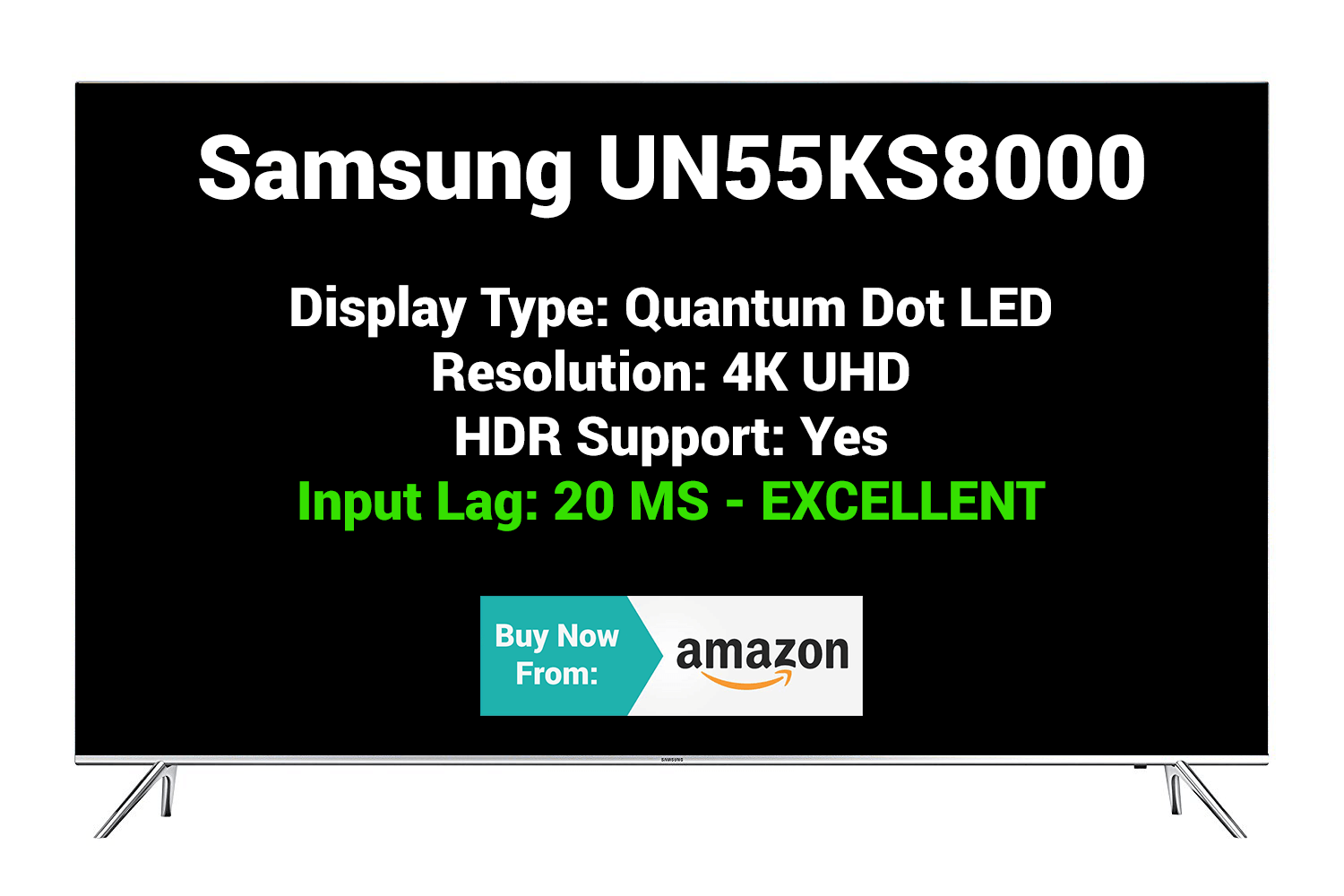 We first measured this set last year, and surprisingly it turned out to be our top gaming pick for 2016. Samsung has had a bad rap before 2015 for high input lag in their flagship TVs, so it's great to see that they've developed consistency when it comes to low input lag for gaming. As the war wages on between Dolby Vision and HDR10 formats, Samsung have decided to stick to HDR10 for their 2016 lineup, as well as their incoming 2017 lineup. The KS8000 series features 4 HDMI inputs to take in all of your sources, and comes in a variety of sizes between 49-65 inches. In terms of input lag, we measured an extremely low average input lag of 20ms, making it very suitable for hardcore gaming sessions. Input lag also remains equally low while in HDR is enabled under game mode, clocking in at 23ms. Coming in with a native 120hz refresh rate, motion performance is quite good during fast motion scenes, though doesn't quite match the performance of OLED in this regard. It has very good picture quality for the price, offering great contrast ratio and color accuracy once calibrated. To top it all off, it's quite affordable, coming well under $1,500 depending on the size you prefer. You can read more about this TV and check the lowest price directly from Amazon.

For Picture Quality Enthusiasts: LG B6 OLED Series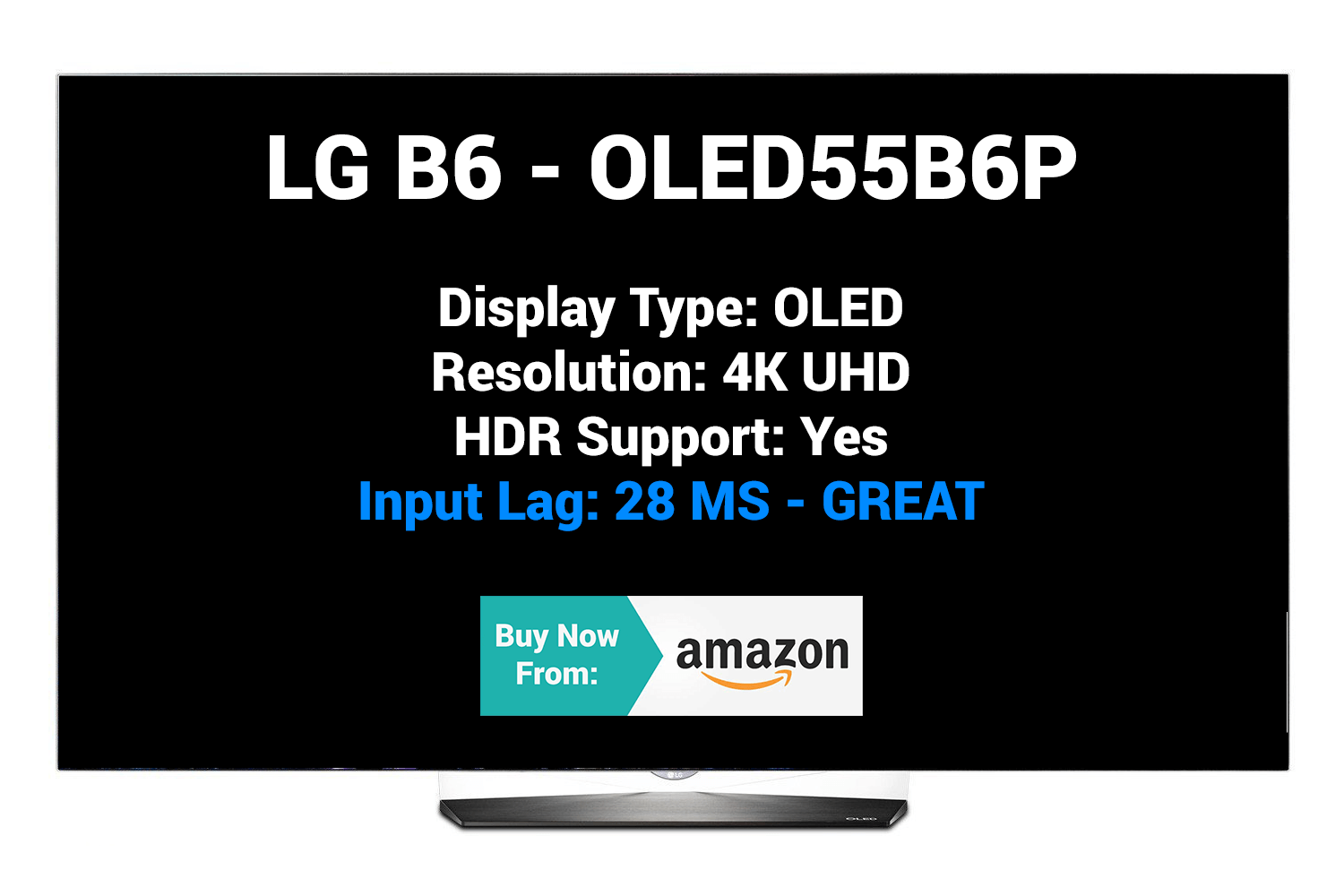 OLED TVs have quite a storied history with gaming. Ever since I got my PSP-1000, OLED displays have blown me away when it comes to gaming applications, mainly due to their insane contrast ratio. Nowadays, most consumers are familiar with OLEDs in modern Samsung smartphones, known for their excellent contrast ratios and black levels. However, when I first started testing OLED displays in our input lag database, they returned horrendous input lag values that were unsuitable for serious gaming. It was quite a shame, as LG has invested heavily in OLED technology, and I absolutely love what OLED brings to the table in terms of picture quality. For most of 2016, it seemed that LG still had not learned from their high input lag values that plagued their old TVs, as their entire 2016 OLED lineup exhibited high input lag values even under game mode. Many consumers complained about this, and LG answered.
When the OLED55B6P first launched, game mode returned values above 40ms, which was unacceptable for serious gaming application. What made matters worse is that the TV didn't apply game mode for HDR content at all, which would result in terrible input lag over 100ms. LG have launched a series of firmware updates to steadily reduce these input lag values, with the latest 2017 firmware update tackling this problem considerably. The OLED55B6P now exhibits a very low average input lag of 28ms, making it a great choice for most gamers. While it's not quite as fast as the KS8000, most gaming monitors we tested average around 10ms of input lag, which are primarily designed for hardcore gamers.
The additional frame of input lag present on the B6 should go unnoticed by the majority of gamers, and will only be a concern if you need the most precise timing possible (mainly for fighting games, speed running, and other professional applications). It's also able to replicate low input lag while under its new HDR gaming mode, making it an excellent choice for HDR-enabled game consoles such as the PlayStation 4 Pro and Xbox One S. Speaking of HDR, LG is heavily invested in promoting Dolby Vision, and it's great to see that the TV is compatible with both Dolby Vision and HDR10 formats. We don't need to dwell too much on picture quality either; the B6 offers contrast ratios, black levels, motion clarity, and color accuracy beyond anything that LED TVs are capable of doing currently. Oh, and it's under $2,000. You can read more about this TV and check the lowest price directly from Amazon.

Don't Miss the Curve: Samsung KS9500 Series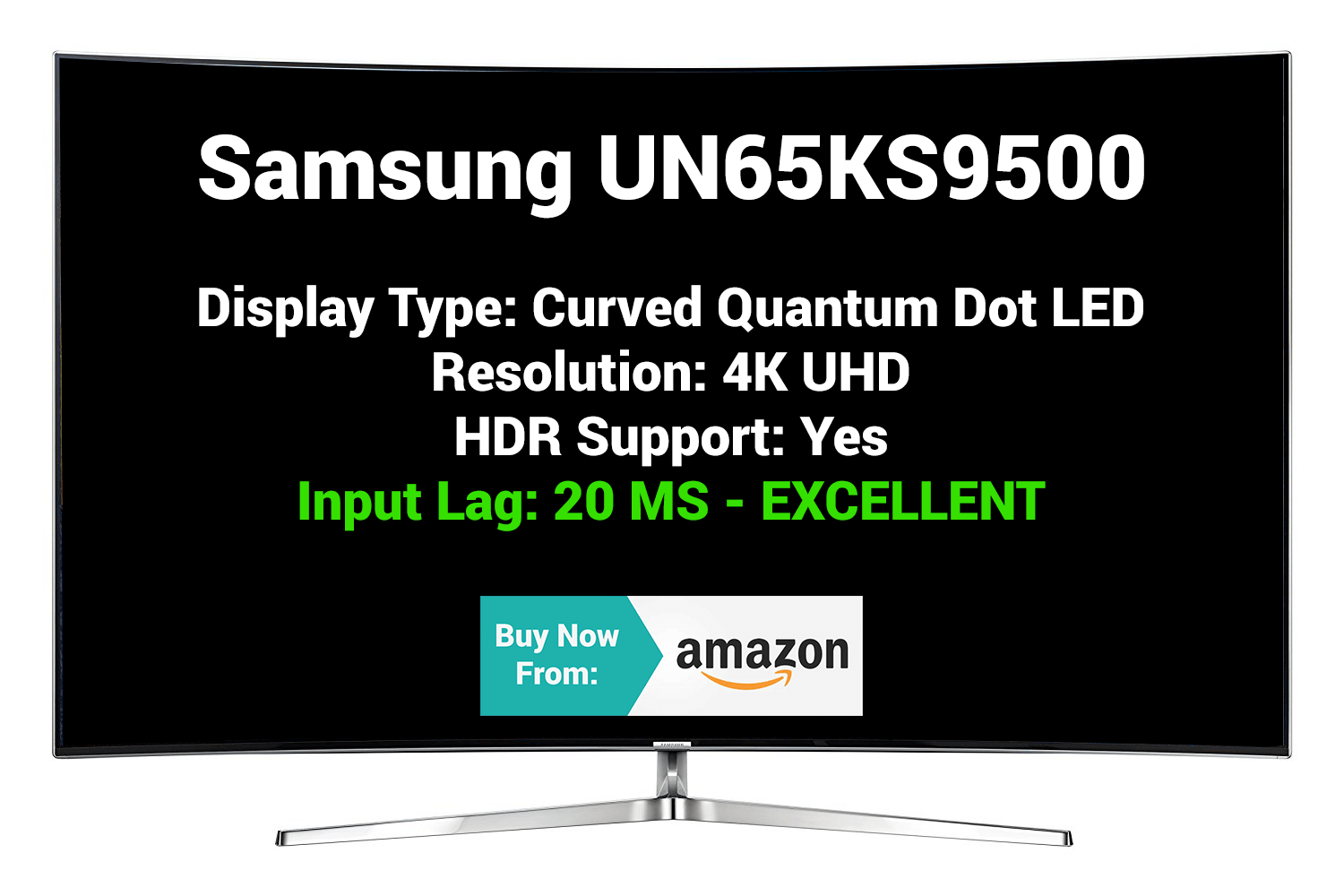 Thought curved TVs were gone huh? Samsung showed their commitment to the curved initiative last year by producing the 9000 series. Samsung's KS9500 series takes a lot from the KS8000 mentioned earlier in this article. It takes the same 4K UHD resolution and HDR support, fitting Quantum Dot magic into a curved display. While the curved market seems to be losing popularity since 2015, this TV thankfully produces the same excellent input lag values from the KS8000 series. We tested an average input lag of 20ms, which is great for hardcore gamers. The KS9500 has improved motion processing over the KS8000, fitted with a Supreme 240 MR rating, when compared to the standard 240 MR rating from the KS8000. However, I don't think this is worth the price difference in practice, and would mainly recommend the KS9500 for those that would like to have a curved display over a standard flat one. You can read more about this TV and check the lowest price directly from Amazon.

Honorable Mention: LG UH6550 Series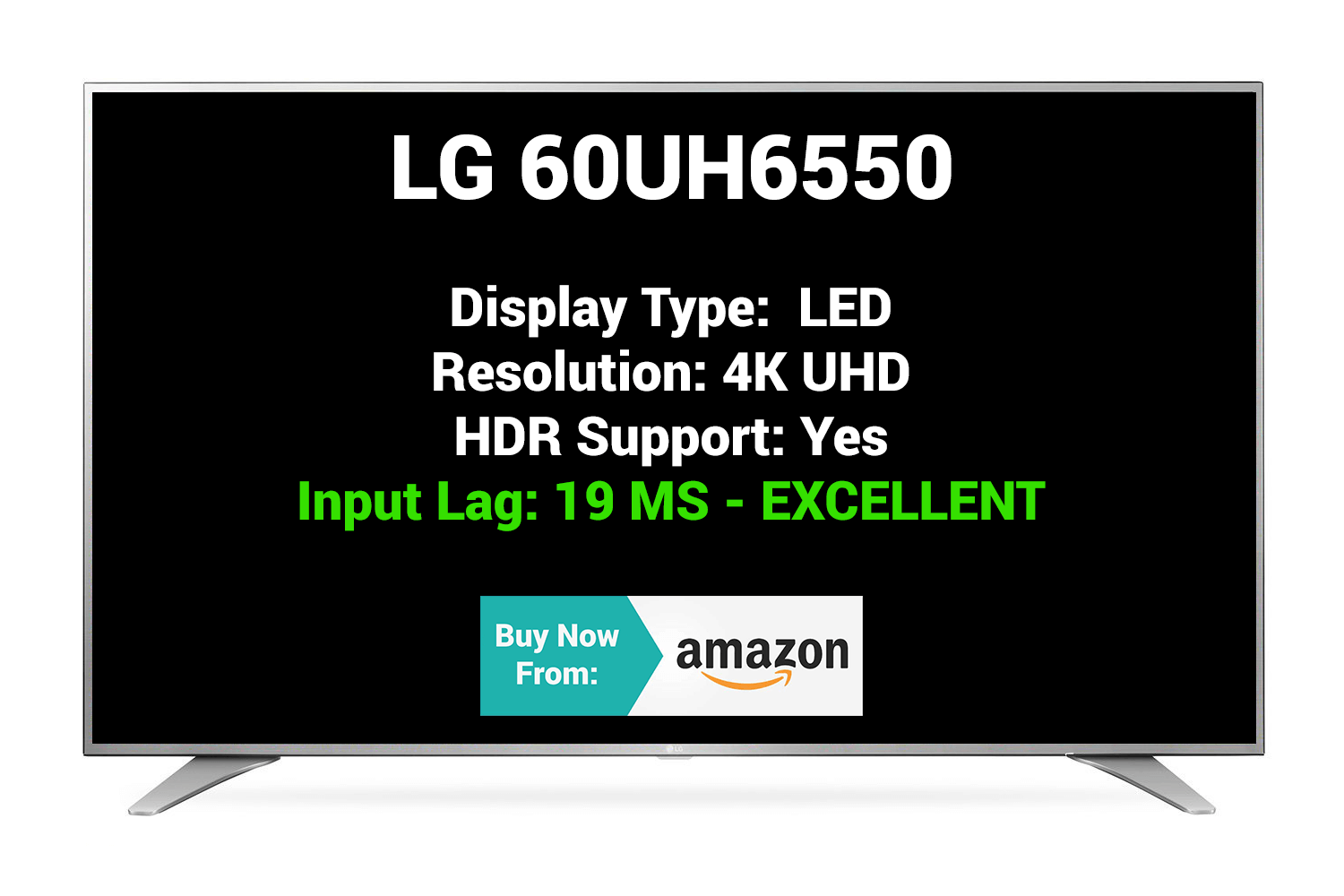 LG's UH6550 series is an odd duckling. I stumbled across this TV last year when I was doing my initial input lag testing run, and was surprised at how fast it was. Historically, almost all of LGs have been sorely lacking when it comes to fast response, and this was literally the only large screen TV in the last four years to exhibit such low latency. I did a few extra tests to make sure the values were correct, and received an extremely low input lag result of 19ms in game mode each time. For those that aren't enthusiastic about Samsung's VA panels, the UH6550 uses LG's signature IPS panel, which provides greater viewing angles in comparison. Its refresh rate is 120hz, and comes fitted with three HDMI ports. While this TV does support HDR10 to a basic level and provides 4K resolution, it's meant to serve as an entry point into 4K gaming, so don't expect too many bells and whistles. It does excel in terms of price however, as the 55-inch model can be had for under $800. You can read more about this TV and check the lowest price directly from Amazon.

This wraps up our look at the best gaming TVs of 2016! We will be updating this article once we get our hands on 2017 models, so stay tuned for further updates within the coming months. Didn't like the displays listed here? Then head on over to our input lag database, which features over 400 TVs and monitors tested for input lag!