<strong>Affiliate Disclosure</strong>
This post may contain affiliate links. Clicking these links will redirect you to Amazon.com, and we will receive a small commission on purchases made through this link.
What a megaton. For quite some time, gamers have been forced to make some difficult choices in PC gaming. Once you finally got over the hurdle of deciding between a NVIDIA G-SYNC or AMD FreeSync monitor (along with their respective GPUs), you had to decide between ultra sharp 4K resolution or ultra high 165hz+ refresh rates. This debate sparked a general consensus that 2560 x 1440 resolution, combined with a high refresh rate display is the perfect middle ground for most gamers, as the benefits of higher refresh rates are hard to ignore for serious gamers. Besides, the best GPUs on the planet are just barely starting to run games at 4K/60hz without a dual GPU setup.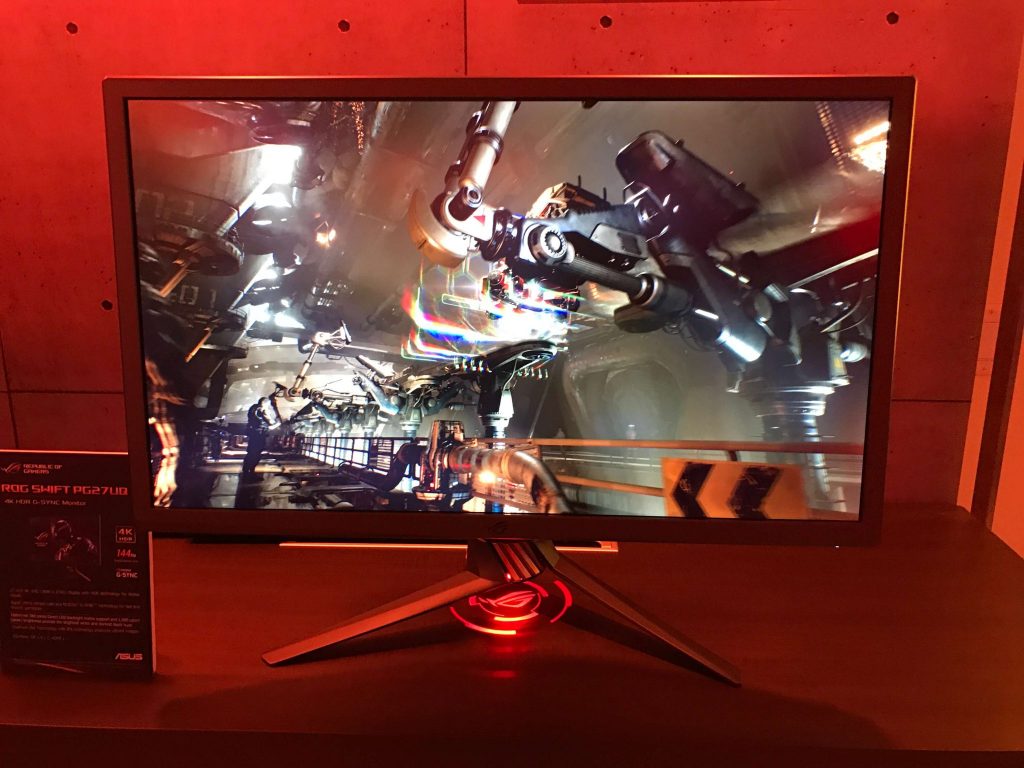 Well, consider your wallet obliterated. ASUS' latest flagship monitor pulls no punches when it comes to raw specifications. This direct-lit quantum dot 4K IPS display not only supports HDR, but does it on top of G-SYNC's variable refresh rate technology, AND does it at 144hz refresh rate to maximize your response time. Following current HDR specifications, the monitor reaches a peak brightness of 1,000cd/m² to make the most of it's contrast ratio, along with employing 384 zones of local dimming to keep those black levels inky in dark areas. It also supports the majority of the DCI-P3 color space, similar to most HDR enabled TVs on the market.
Yeah we know, it's sexy under the hood. But it's aesthetically pleasing as well. ASUS have employed a modified version of the PG348Q's casing to the PG27UQ with several changes. Due to the direct-lit LED, the back of the monitor is considerably thicker to provide enough housing, and the legs have been shortened due to customer feedback. You can expect to find the familiar ASUS joystick and buttons to operate the OSD on the right side of the monitor. The bezel is noticeably thicker than previous ASUS ROG monitors since the redesign, however that can be forgiven due to the insane internals it possesses. It's size comes in at 27-inches with a 16:9 aspect ratio, which is the sweet spot for close range viewing.
I'm quite excited for its gaming performance. This is the first monitor in a long time that feels truly next generation, and it's hard to find many glaring issues with its execution. The combination of G-SYNC and 144hz already feels amazing in current flagship monitors, providing extremely low input lag values. G-SYNC itself essentially provides the same input lag timings as V-Sync off, without the nasty tearing artifacts and stuttering. 144hz also aids with input lag reduction, and dramatically improves motion clarity for added immersion. ASUS had a demo reel running on the PG27UQ unit I was checking out and it was quite stunning. With dual DisplayPort 1.4 connections as well as a HDMI input, this monitor is supporting the latest specifications to make the most of your graphics cards. Speaking of which, I really hope I can power this thing. The PG27UQ is scheduled to launch in April 2017, hopefully under $1,500. Check out our full image gallery to see how it looks: