<strong>Affiliate Disclosure</strong>
This post may contain affiliate links. Clicking these links will redirect you to Amazon.com, and we will receive a small commission on purchases made through this link.
If you've been involved with esports in any manner, chances are that you've encountered BenQ ZOWIE's products in the field, most notably their gaming monitors and mice. They've produced many high refresh rate monitors over the years for serious PC gaming. The XL2546 is one of ZOWIE's newer offerings, featuring a native 240hz panel along with their proprietary DyAc backlight strobing algorithm.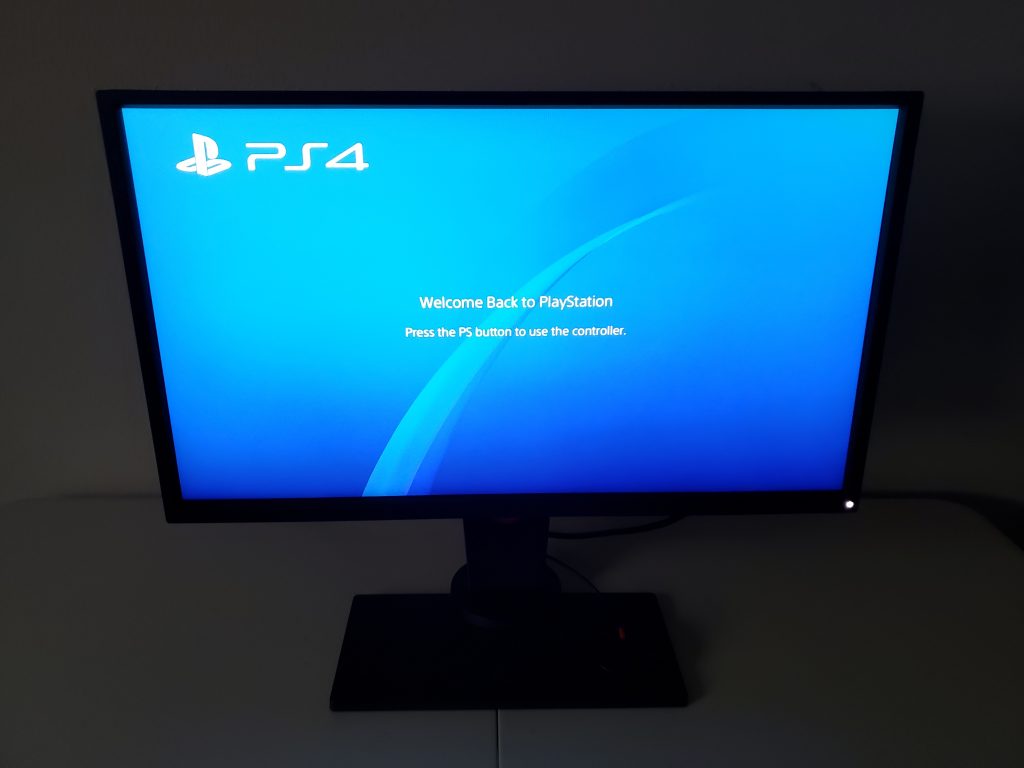 Similar to other BenQ ZOWIE monitors, the XL2546 borrows design elements from previous monitors. The display itself rests on a metal stand that's connected to sturdy plastic base, which includes a groove to place ZOWIE's proprietary S-Switch dongle. For tenured viewers reading this review, you may recognize this puck from older BenQ monitors. It's designed for quick access to a variety of monitor settings.
The XL2546 fitted with a TN panel, which is traditionally known for poor viewing angles and color accuracy. In exchange, TN panels typically receive the fastest response times, lowest input lag, and highest refresh rates available. To combat poor viewing angles, the XL2546 is equipped with full height, swivel, and tilt functionality to give an optimal viewing angle. I had no issues calibrating its placement to provide a centered viewing angle, however this stand does tilt upwards more than it does downwards. I don't recommend placing this monitor too high above your head.
The XL2546 is outfitted with thick matte plastic bezels to eliminate/reduce glare and reflections, which is quite important to maintain focus for professional gaming applications. The overall build of the monitor feels hefty and gives me confidence in its overall longevity.
In terms of connectivity, the XL2546 includes DVI-DL, 2x HDMI, DP 1.2, a headphone jack and a microphone jack. The HDMI inputs do include a HDMI 2.0 port, as its necessary to achieve full 240hz if you cannot use DisplayPort for some reason. I'd advise sticking to DisplayPort for computer use, as it tends to have less issues in my experience. The HDMI inputs are useful for console users in particular.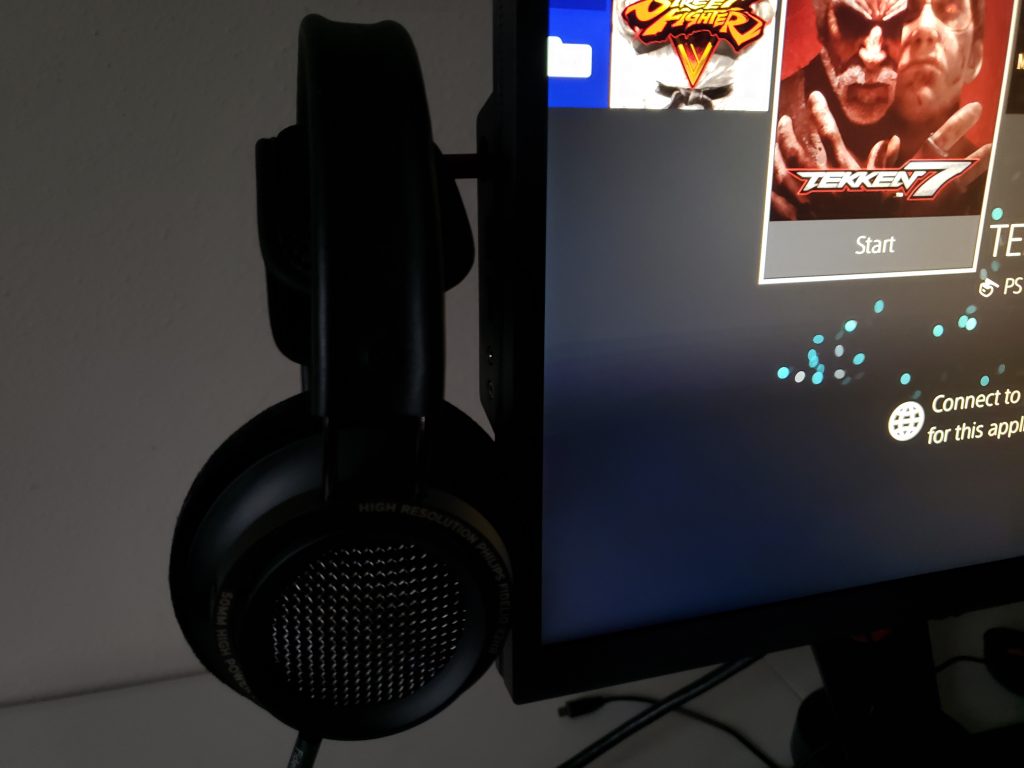 Along with the above inputs, the XL2546 does include a USB 3.0 passthrough to power its dual USB 3.0 ports on the side of the monitor. Next to these USB ports, a pop-out headphone stand is built into the side as well, allowing you to store your headphones when not in use. I personally find this very useful, to avoid cluttering my desk with an additional headphone stand.
In terms of audio, there are no speakers present on the XL2546, though the aforementioned headphone jack will allow you to use your 3.5mm devices. Even with the headphone jack, you will still need some kind of amp, as the headphone output is far too weak to support even low impedance headphones. I connected my Fidelio X2HR full size headphones (35 Ohm, pictured above) to the headphone output with no luck. By comparison, even my Galaxy Note 9 can power the X2HR's to adequate volume. The sides of the monitor include grooves to install shields that aim to reduce distracting elements from your peripheral vision.
Moving onto the monitor itself, BenQ/ZOWIE have traditionally offered clean menu systems that are easy to navigate in dark environments, thanks to indicators appearing directly above the physical buttons. The buttons are made of plastic and have good tactile feel to them, and the monitor itself emits a small beep when they're pressed. This is good for confirmation of your button presses, though if you find it annoying, it can be disabled within the OSD.
BenQ ZOWIE takes it one step further and includes a proprietary S-Swtich dongle that connects via mini-USB directly to the monitor. I've used the S-Switch several years ago on one of their older monitors, and it's still a joy to use on the XL2546. While there is a bit of lag present when scrolling through menus with it (the same amount as the physical buttons), it's infinitely more comfortable to use the puck over the buttons on the monitor. Pressing the scroll wheel or the back button brings up the menu, and there are 3 separate buttons to quickly swap between display profiles that you may have set up. It also takes up no desk space, as there is a groove indented onto the base for it to rest.
The preset icons present shortcuts for picture mode, DyAc, and black eQualizer settings, however all 3 of these custom keys can be changed within the OSD configuration menu. If you're seasoned with BenQ/ZOWIE monitors, the XL2546's OSD implementation won't surprise you at all; it should feel right at home. The screenshots below show every configurable option on the XL2546:


DyAc – Dynamic Accuracy:
The key feature of the XL2546 is the inclusion of DyAc, which is BenQ ZOWIE's proprietary implementation of Motion Blur Reduction technology. Last fall, we launched a special gaming monitor database, that allows you to sort monitors based on high refresh rates, G-SYNC/FreeSync, among other criteria. The "Anti-Motion Blur" filter in this database allows you to sort monitors by motion blur tech from different manufacturers. They go under various names, with BenQ ZOWIE's implementation referred to as DyAc — short for Dynamic Accuracy.
Engaging DyAc enables a strobing backlight that's designed to drastically reduce motion blur during fast-paced action. Its benefits are appreciated at higher framerates, typically north of 100hz. While strobing backlights have been implemented in various gaming monitors over the years, there are some important distinctions to make in terms of their effectiveness.

<strong>Check BenQ ZOWIE XL2546 Price on Amazon</strong>

One drawback with strobing backlight/motion blur reduction tech is the amount of headroom present with refresh rates. For example, running 144hz refresh rate on a 144hz monitor will result in strobe crosstalk artifacts — duplication of images due to limitations in GTG pixel transitions. This phenomenon occurs due to lack of headroom, as you're maxing out the monitor's refresh rate. It is highly advised to use refresh rates lower than the maximum refresh rate of your monitor when engaging DyAc or other MBR tech.
With that said, there are huge benefits in regards to lower input lag and smooth frame rates when engaging 240hz on this monitor. So the key here is to find a trade-off that provides a high-enough refresh rate that allows minimal input lag and maximum motion clarity. While running at the maximum 240hz refresh rate may sound optimal, there are huge benefits when utilizing DyAc to reduce motion blur significantly. The immense clarity boost provided by engaging DyAc is totally worth giving up some extra frames, as it allows sensitive gamers to process and react to intense gaming scenarios more efficiently.
Our colleagues over at BlurBusters have written an extremely useful guide to help calibrate strobe crosstalk artifacts, while achieving the best balance between refresh rate and minimal crosstalk artifacts. Per their recommendation on the XL2540, we created a custom 182hz resolution within the NVIDIA control panel to achieve this balance. The settings can be found below. My impressions regarding DyAc and the overall performance of the monitor can be found later in the review.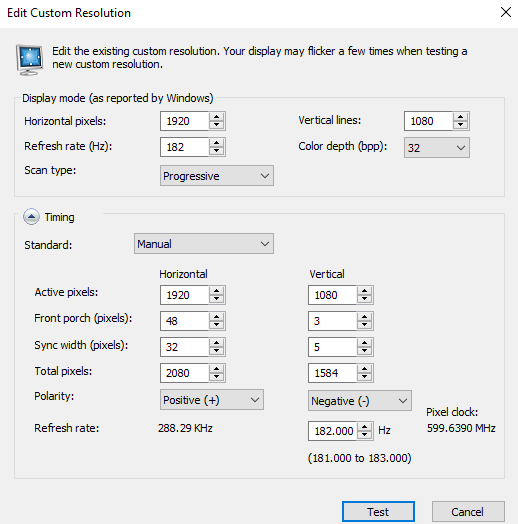 Picture Quality & Calibration:
While TN panels aren't typically pursued for their image quality, the XL2546 surprised me in a pleasant way. There's no getting around the limited viewing angles and gamma shifts that plague TN panels, however the XL2546 achieved excellent color accuracy after just a few calibration tweaks within the OSD. These are the results:
Calibration Target: D65 / 2.4 gamma / 120 nits
Black Level: 0.10
Average Gamma: 2.33
Average dE: 1.08
Contrast Ratio: 1162:1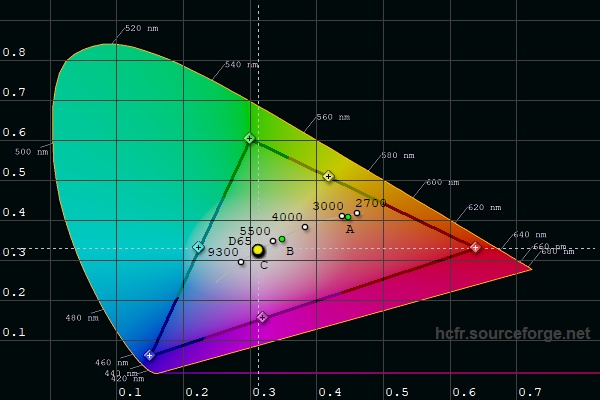 I was able to achieve an average dE much lower than 3, and an impressive contrast ratio of 1162:1, which shoots above BenQ ZOWIE's 1000:1 specification. Though, I wasn't so lucky in regards to gamma. Gamma 5 resulted in an average gamma of 2.5, whereas Gamma 4 ended up at 2.33. It's a bit shy of our intended 2.4 target. In practice, colors looked very accurate once you achieve optimal viewing angles using the adjustable stand. These are the settings used:
Game Settings:

DyAc: OFF
Black eQualizer: 0
Color Vibrance: 10
Low Blue Light: 0
Instant Mode: On
Picture:

Picture Mode: Standard
Brightness: 18
Contrast: 50
Sharpness: 5
Gamma: 4
Color Temperature: User Define (R:94, G:100, B:95)
AMA: High
Dynamic Contrast: 0
How does the XL2546 fare in general viewing? Color accuracy is good for a TN panel, which allows the overall sRGB gamut to look quite good. I didn't notice many irregularities with skin tones and other color sensitive data. With that said, it's still a TN panel, so don't expect it to trade blows with IPS and VA panels in this regard. The black level was measured at 0.10 cd/m², which is typical for a TN panel, but is much higher than VA panels. You may find letterboxes a bit distracting if you're used to low black levels from other panel types.

Measured Input Lag:
When it comes to input lag, there are a few important caveats that should be taken into consideration. All of the measurements listed in our input lag database are taken at 60hz refresh rate, due to the limitations of our input lag testing device. Refresh rate has a huge impact on input lag, so the measurement numbers below only apply to 60hz users on this monitor (typically console gamers):
1080p/60hz Input Lag (Instant Mode On):

Top Screen: 8.9ms
Middle Screen: 12.8ms
Bottom Screen: 16.5ms
Average Input Lag: (Rounded): 13ms
DyAc was disabled with these measurements. These numbers may seem alarming at first, however they are normal due to the 240hz panel's higher scanout period with 60hz refresh rate. While it's a few milliseconds short of the fastest 60hz gaming monitors, it still falls under our Excellent rating for serious gaming.
Of course, this apparent disadvantage is immediately removed from the equation while running high FPS content above 60hz. Even on the fastest 60hz monitor, there is going to be a limitation with how fast your display can respond to a button press. The fastest console games tend to hover around 60ms of input lag, with many modern engines taking over 100ms before the button is displayed on screen!

To showcase the significance of 240hz in relation to input lag, I booted up Overwatch on our test PC. I measured Overwatch's input lag using a 1000 FPS camera at both 60hz and 240hz refresh rate on the XL2546. In-game V-Sync was enabled as well for this test, though DyAc was disabled. Using a LED button mapped to strafe, the time between LED flash and on-screen action was measured 10 times, with the average of 10 results being used as our final number. At 1000FPS, 1 frame equals 1 millisecond:
Overwatch 60hz Average Input Lag: 76ms
Overwatch 240hz Average Input Lag: 24ms
Holy cow, what a difference! Running the game at 240hz results in 52ms of input lag being shaved off when compared to 60hz, which is extremely significant in my opinion. Most serious gamers would be able to feel the difference between these two refresh rates. On top of that, camera pans and overall visual clarity is far more pleasant. Different game engines provide different levels of input lag, however, any game with an unlocked frame rate will provide similar input lag shavings when running at 240hz.

<strong>Check</strong> <strong>BenQ ZOWIE XL2546 Price on Amazon</strong>

Liked:
DyAc was primarily designed to reduce the effects of gun recoil in games like CS:GO. As motion clarity is significantly reduced during this action, engaging the right balance of refresh rate and DyAc results in much better motion clarity, allowing your eyes to keep track of the action while under intense movement.
I've noticed significant benefits while using DyAc under heavy movement, especially during camera pans where you have to eye track. A known weakness of LCD panels when compared to older CRT displays is the lack of motion clarity during fast action. There have been many gaming monitors over the years that push 1ms GTG, but this still doesn't rectify the issue, as some nasty overdrive artifacts tend to surface. Once NVIDIA introduced Lightboost that eventually morphed into ULMB, this opened the floodgates towards getting that CRT motion response back into LCD panels.
There's always been one major issue with early strobe backlighting implementations: a large decrease in peak brightness. Many older monitors would cut the maximum nits in order to achieve strobing backlight, which made them a bit unsuitable for bright environments. That's the really cool thing about DyAc in the X2546: there's no brightness drop. In fact, my peak brightness measured at 343 nits without DyAc engaged, and 346 nits while it was turned on. This makes the monitor suitable for any indoor environment.
Visual clarity is excellent while tracking fast actions such as strafing while aiming, quick mouse swings, and anything that essentially involves fast camera panning. The increase in motion resolution really boosts your ability to aim and track your enemies without turning your screen into a blurry mess, which in theory should really benefit active players that want to maintain control. Especially in games like Gears of War 4, where advanced CQC gameplay revolves around fast camera control to aim your gun, while tracking enemies all around you. Engaging DyAc gives you that extra boost in clarity that can ease your itchy iron-sight trigger, resulting in less confirmations overall.
Color accuracy is good once calibrated with a colorimeter, and I had no issues with the overall image quality, provided you keep a level view that doesn't shift. The build construction is very solid, giving me no worries about the monitor's physical longevity. The monitor is lenient with custom refresh rates, and can be further tweaked from the service menu to calibrate DyAc even further.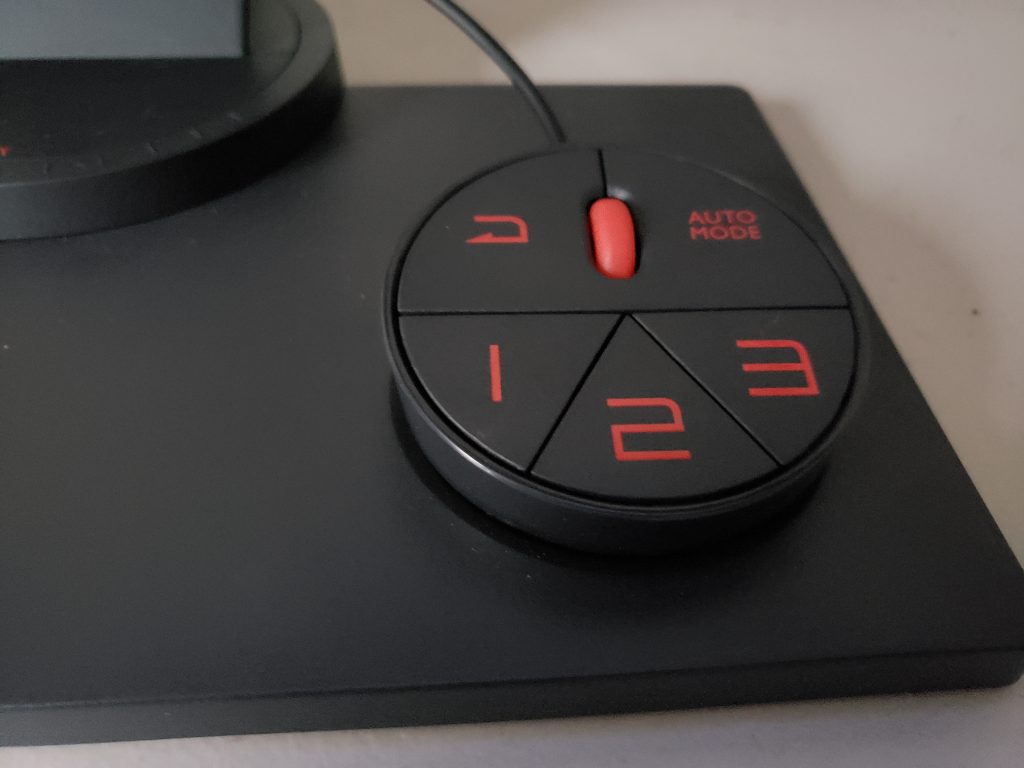 Disliked:
The biggest issue I have with the XL2546 is a large green color shift that occurs when scrolling web pages. I thought this might have been a side effect of enabling DyAc, however even with DyAc disabled, I couldn't remove this green flicker when scrolling vertically. It's most apparent in heavy white content with blue/black text, typically Google searches. While it takes a trained eye to notice, it prevents me from recommending this monitor for general use. I can only recommend the XL2546 as a strict gaming monitor.
No official FreeSync support is a huge bummer. Especially since the predecessor XL2540 is listed officially by AMD as FreeSync capable. It would have been great to see this monitor offer FreeSync for those that have trouble maintaining consistent FPS during gaming. VRR makes a lot of sense in a 240hz monitor.
I'd like to see less input lag in the OSD overall. It's fine when using the buttons, however it feels quite disconnected when using the included S-Switch control. It's not a huge deal, as you'll rarely fiddle with menus once everything is calibrated, though still a nitpick that bothered me.


<strong>Check BenQ ZOWIE XL2546 Price on Amazon</strong>

__________________
Disclaimer: this unit was provided by BenQ ZOWIE for review purposes, with no other compensation involved.
Review Summary
Build Quality -

9.5/10

Picture Quality -

7/10

Menu Options / OSD -

9/10

Input Lag -

9.5/10

Motion Blur / Response Time -

10/10

Value -

8/10
Summary
BenQ ZOWIE's XL2546 hits it out of the park as a dedicated gaming monitor. The motion resolution and input lag benefits provided by DyAc and 240hz really immerses you in the overall gaming experience, though you will want to maintain a consistent FPS due to the lack of FreeSync support. Color accuracy is good for a TN panel, but the green color shift while scrolling in general web browsing is distracting. Check the latest price on Amazon.