<strong>Affiliate Disclosure</strong>
This post may contain affiliate links. Clicking these links will redirect you to Amazon.com, and we will receive a small commission on purchases made through this link.
For quite some time now, I've been asked by many readers on featuring VIZIO TVs on the site, as they've produced some attractive options for gamers over the years. Their TVs are traditionally aimed at those who want quality specs to match an affordable price. Having met their team several years ago at CES, I could tell that they had a genuine enthusiasm with their products. So, I was happy when they reached out to me to review one of their main TVs for 2018, the P-Series 55″ 4K HDR TV.
Like many competitive offerings from LG, Sony, and Samsung, it's a full-featured LED backlight option that provides up to 1000 nits of brightness, wide color gamut, 120hz refresh rate, as well as HDR10, Dolby Vision, and HLG support. Up to 120 zones of local dimming in full-array formation are offered in the P-Series lineup for 2018, though the 55″ model I was sent has 56 local dimming zones. Most of you probably understand what comes in a mid-range 4K TV nowadays, so lets get straight to the point: is this a good buy, and good for gaming?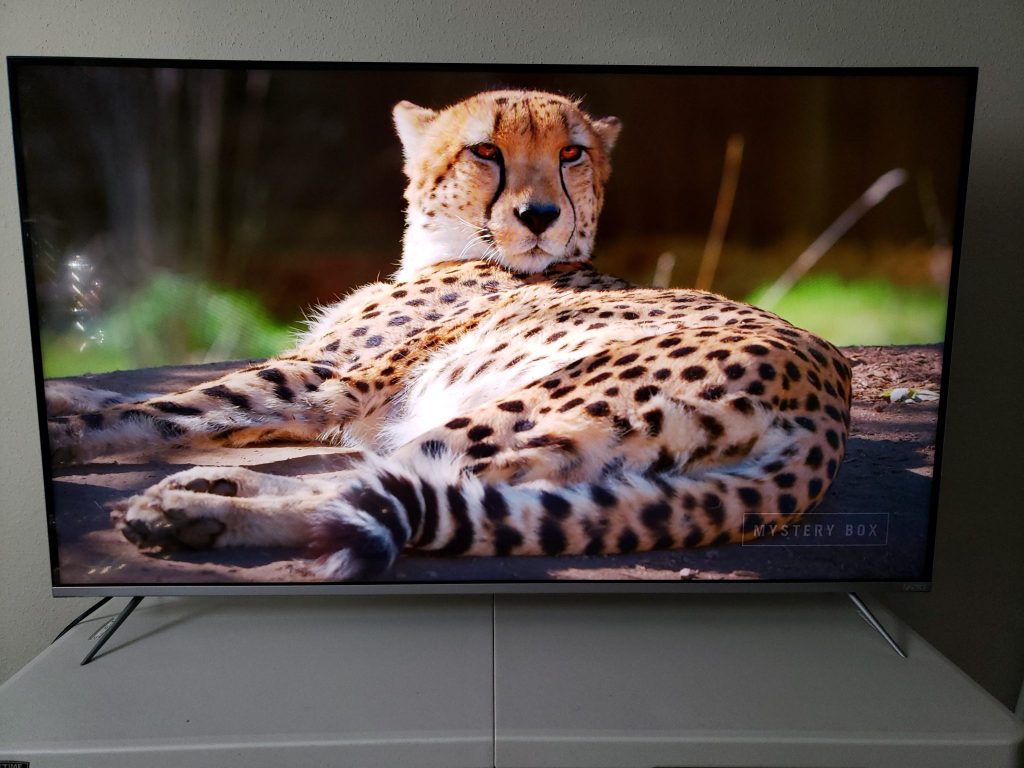 One of my first impressions with VIZIO TVs was roughly a decade ago when I'd make a daily commute to the local mall, and they used to have these really big front spacing speakers plastered on the front of the display. While a bit gaudy, it was an interesting design choice that made the TV standout from others on the market.
Much has changed since then, with consumers focused towards ultra-thin screens and eliminating the bezel as much as possible. I think that manufacturers across the board have realized how important it is for a TV to look attractive in the living room. The P55-F1 is no slouch in this department, featuring an edge-to-edge panel with solid metal feet to support the display. It feels premium to the touch.
Powering up the TV to inspect the OSD, I personally find it to be a mixed bag, On one hand, I really appreciate the detail that VIZIO provides on every main option that can be configured on the display. Seriously, this can't be understated to the average user. For example, highlighting their black frame insertion feature "Clear Action" mentions that it reduces motions blur, but will limit the peak backlight brightness. Highlighting the "Gamma" option advises to use a lower gamma point for bright rooms, and higher values in a dark room.
While most tech savvy people and reviewers don't need this information, this is a great step in educating the average consumer on what these settings do. The thing I dislike about the OSD is the responsiveness. It's not horrible by any means, but in a world where Apple's main draw is software optimization and responsiveness, it feels a bit sluggish. I feel that manufacturers should start optimizing their software as much as they optimize the exterior of their products. It's even more important if you're pushing Smart TV functionality. Lets push for 60 FPS menus!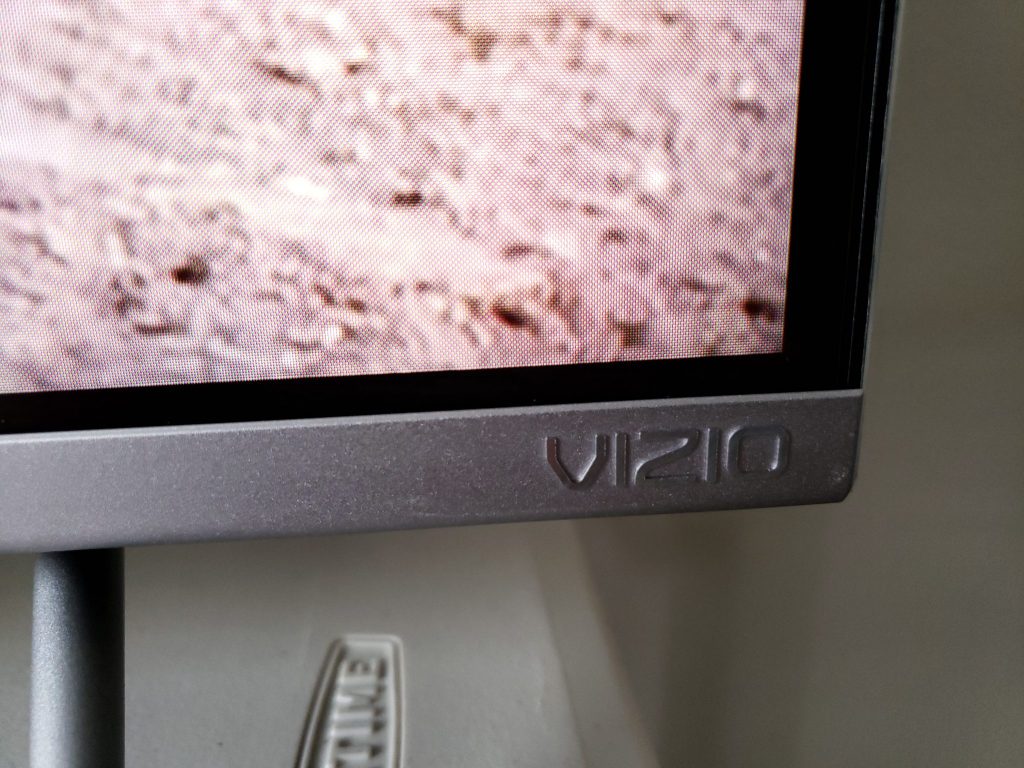 Speaking of SmartCast, the TV features several built in streaming options that are placed on the remote as well: VUDU, Netflix, Amazon Video, XUMO, Crackle, and iHeartRadio. While I don't use these services, the main draw for SmartCast is that it's essentially a built-in Google Chromecast inside the TV, which is quite useful for those that don't want an extra dongle attached to their HDMI port.
From my testing, it seemed to work seamlessly, though I couldn't get 4K or 4K HDR content to display on it. The max resolution I could pass through my Galaxy Note 9 through the YouTube app was 1080p at 60 FPS. Twitch streaming also worked without a hitch. Useful if you need to share a video quickly with others in the room, but doesn't display the max capabilities of this TV by any stretch.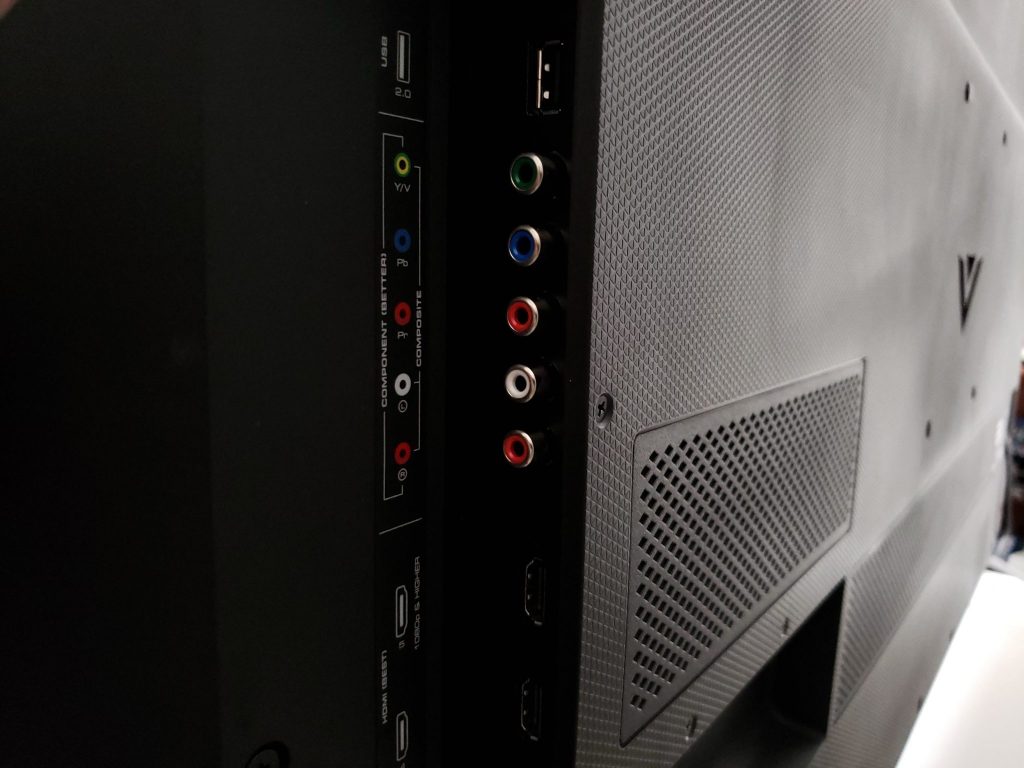 In terms of connectivity, VIZIO's P55-F1 provides more display inputs than almost every TV on the market. Included on the P55-F1 are five HDMI ports (four of them support full bandwidth for HDMI 2.0, more on that later), analog and digital audio out, ethernet, and even a component/composite connection. It supports 802.11ac Wi-Fi, and has an ethernet port. Full tech specs can be seen in the dropdown toggle below:
<strong>VIZIO P55-F1 Full Specs</strong>
Key Specs
Class Size –

55″

Screen Size (Diag.)

54.50″ / 1384.30 mm

Panel Type –

VA

Smart Platform –

VIZIO SmartCast™ with Chromecast built-in

High Dynamic Range –

Dolby Vision, HDR10, HLG

Wide Color Gamut –

Ultra Color Spectrum

Resolution

Ultra HD – 3840 x 2160

UHD Upscale Engine –

Spacial Scaling Engine™

Picture Processor –

VM50 Engine

Display Processor –

V8 Octa-Core Processor

Backlight Type –

Full Array LED

Local Dimming Zones –

56

Clear Action™ –

720

Built-in Wi-Fi –

802.11ac Dual Band

UHD Codec Support –

VP9 and HEVC (H.265)
HDMI Inputs
HDMI Ports –

5 (2 side / 3 bottom)
Additional Inputs
Component –

1 (side/shared with Composite)

Ethernet –

1 (bottom)

USB Ports –

1 (side)

TV Tuner –

Yes
Outputs
ARC –

Yes

Analog Audio Out – 1

(bottom)

Digital Audio Out (SPDIF) –

1 (bottom)
Display
Effective Refresh Rate –

240Hz

Dynamic Contrast Ratio

– 50M:1

Aspect Ratio –

16:9

Viewable Angle (H/V) –

178° /178°

Number of Colors –

1.07 Billion

OSD Language –

English, Spanish, French
Audio
Speakers/Power Output –

10w x 2
Energy Savings
Power Consumption –

172W

Standby Power Consumption –

< 0.5W

Ambient Light Sensor –

Yes
Wall Mount Specifications
Mount Pattern –

200 mm x 200 mm

Screw Size

– M6

Hole Depth –

15mm
Stand Assembly
Screw Size –

M4

Screw Length –

16mm
Included Accessories
Remote Control –

XRT136

Battery Type –

2x AAA
Size and Weight
Product with Stand Dimensions –

48.49″ x 30.42″ x 10.04″ (1231.7mm x 772.7mm x 255.0mm)

Product with Stand Weight –

39.27 Lbs. / 17.81 Kg.

Product without Stand Dimensions –

48.49″ x 28.02″ x 2.63″ (1231.7mm x 711.7mm x 66.8mm)

Product without Stand Weight –

38.83 Lbs. / 17.61 Kg.

Product Packaging Dimensions –

54.96″ x 32.76″ x 8.11″ (1396.0mm x 832.1mm x 206.0mm)

Product Packaging Weight –

54.46 Lbs. / 24.70 Kg.
VIZIO Warranty
Warranty –

One Year Parts & Labor. Free Lifetime Technical Support.

The remote is quite serviceable. Apart from the streaming service buttons implanted on the top of the remote, it features a large directional pad, and all the main buttons you'd need quick access to on a TV remote. It's quite plain and there isn't anything interesting to note, besides the feel of the center "OK" button.
It's indented downwards to allow your thumb to rest on it, which I found quite pleasant in terms of comfort. Dual 10w speakers provide audio for those that don't want an external audio source, though the quality was quite average. On the plus side, there is plenty to configure in the Audio menu, including volume leveling and an equalizer to fine tune frequencies.
Panel Uniformity:
The VIZIO P55-F1 sample that I was sent appears to have really good panel uniformity, with less than 2 DE deviation from the center of the screen across most of the tests. The only area of the screen that displayed a DeltaE deviation above 2 was the top center of the screen during the 100 IRE test, which should be unnoticeable during regular watching. Keep in mind that uniformity is very specific to the sample display, and does not represent the average uniformity across all samples of the same display.
Picture Calibration:
The P55-F1 comes with a full suite of preset picture modes, such as Standard, Vivid, Computer, and Game, but also features two pre-calibrated modes to resemble Rec. 709 requirements. While these two picture modes weren't too far off from the recommended targets, I created my own SDR picture mode using a SpectraCal C6 HDR colorimeter along with Calman's calibration software to achieve the best accuracy from the P55-F1. I calibrated the P55-F1 using HDMI 1 with "Game Low Latency" enabled, to achieve the lowest input lag from the TV.
After calibration, the P55-F1 achieved excellent color accuracy, with an average DeltaE of just 0.6, well below the recommended threshold of 3.0. The gamma was calibrated to BT.1886, and I was able to record a contrast ratio of 4906:1 as well as a black level of 0.02, which is great for a LED display. Backlight brightness was calibrated to approximately 120 nits, which is our ideal target for low-lit environments.
The P55-F1 was able to cover 99.5% of the sRGB color gamut, which is slightly less than competitors, but shouldn't make a big difference in practice. Our SDR picture settings can be found in the gallery below (please note: these settings can perform quite differently on your TV, use at your own discretion):
Peak brightness rating was updated from 860 nits to 932 nits due to a calculation error.
The story bodes well for HDR10 performance as well. The P55-F1 had overall great tracking along the EOTF curve, with only slight over-luminance. I recorded a peak brightness of approximately 932 nits with Xtreme Black Engine Pro set to "High", which is excellent performance; it's very close to VIZIO's advertised 1000 nits of peak brightness for HDR. Our HDR picture settings can be found in the gallery below (please note: these settings can perform quite differently on your TV, use at your own discretion):
Gaming Performance – Measured Input Lag:
With so many manufacturers offering low input lag numbers over the past few years, the overall bar has been raised to pleasant heights. Nowadays, there are dozens of TVs to choose from to get a quality responsive experience while gaming, which you can see for yourself in our input lag database.
Historically, I've seen VIZIO's input lag numbers over the past few years, and they've been offering low input lag for a while too. So where does that put the P55-F1? Simply put, VIZIO's P55-F1 is a complex creature when it comes to input lag performance.
Lower input lag on the P55-F1 is achieved by either setting the picture to "Game", or enabling the "Game Low Latency" option under the "More Picture" menu. The latter method is advised so that you can have some flexibility when it comes to picture modes. The other requirement is dependent on your source. As mentioned earlier in this review, the P55-F1 features 5 HDMI inputs, though HDMI 5 is a special input that is unlike the other 4 inputs.
While the other 4 inputs are capable of processing the full suite of HDMI 2.0 features including HDR, HDMI 5 is essentially a "gaming" input that is lower bandwidth, but can support full 120hz input, as well as provide the lowest possible input lag from the display. The single important catch here though, is that it does not support HDR, while it does support 4K. So, lets run the numbers with game mode turned on, and see how this plays out.
HDMI 1:
4K: 26.2ms
4K HDR: 26.2ms
1080p: 27.3ms
HDMI 5:
This puts us in quite a conundrum when it comes to games that are output at full 4K HDR: do we disable HDR to get the fastest response from the TV? Or let it rock and deal with almost an extra frame of input lag? To be honest, I'd personally deal with the extra frame of input lag, because most games that do support HDR aren't usually stable with framerates.
But, it would be ideal to not have to make this choice, as many other manufacturers offer their lowest input lag while being fed a full 4K HDR signal. The other issue is that if you want to have two non-HDR sources to receive the lowest input lag on the P55-F1, you will have to invest into a separate HDMI switch to plug both sources into HDMI 5.

Another important aspect of this TV is its black frame insertion mode labeled "Clear Action", which is designed to lower the motion blur present during fast action. While I typically don't like black frame insertion as it usually cuts the backlight brightness too much, I was surprised to see that it didn't cut much brightness on the P55-F1.
This makes it an attractive option to use combined with "Game Low Latency", however this mode can cause eyestrain and headaches due to a noticeable flicker. If you're used to watching 3D content, this mode shouldn't bother you much if you can stomach its side effects. The input lag numbers with "Game Low Latency" + "Clear Action" enabled are as follows:
HDMI 1:
4K – 33.3ms
4K HDR: 26.1ms
1080p: 33.4ms
HDMI 5:
The "Clear Action" mode slightly increases the input lag, however the differences shouldn't be detectable based on the numbers. To test how much input lag was present in the P55-F1 in a real-world scenario, I connected a PlayStation 4 to my ZOWIE RL2460 pro gaming monitor, which also features a zero-delay cloned HDMI output. This output was used to feed a 1080p signal to the P55-F1's HDMI 5 input, allowing the image from the RL2460 to be cloned onto the P55-F1. Using a slow motion camera, it's possible to detect the difference between both monitors during different frames of the recording.
Based on my testing, the P55-F1 lags behind the RL2460 by roughly 1 frame in real world usage. This is still excellent performance, and almost undetectable unless you're a professional gamer. Even then, it's still quite difficult. If you view the video below, you can pause at different segments of the recording and see the difference between frames:
What I
DID NOT

Like:

The menus have a slight lag to them. While it's not bad by any means, the P55-F1 offers a bunch of configuration options that you'll likely tinker with over time, so it would be nice to see a more responsive OSD implemented in future models or via a firmware update.

Input lag segregation between HDMI 1-4 and HDMI 5. While I understand there are technical reasons for this, it's unfortunate that we can't experience the lowest lag possible from this TV with HDR content, especially with PS4 Pro and Xbox One X being mainstream consoles on the market. With that said, the input lag on HDMI 1-4 isn't bad at all, and still falls under our "Great" category, meaning it's very hard to detect. The plea to standardize the lowest input lag across all HDMI inputs comes purely from a hardcore/professional gamer's perspective.

Viewing angles could be better. I noticed some gamma shifting when moving to the sides of the TV, which is a common situation when you have 2-3 other people in the room watching with you. It's a known problem in many LED TVs, and unless you have tech-savvy friends in the room, they might not notice.

I didn't care about the SmartCast options outside of Chromecast and Twitch streaming from my phone. The menu systems within the built-in apps felt laggy, so I'd rather use my own devices to stream content to the TV.

This complaint is isolated to myself only (perhaps), but for some reason, VIZIO shares the same remote codes as LG. This caused the TV remote to operate both my LG OLED as well as my VIZIO P55-F1, which was quite annoying to avoid. The remote would constantly turn on my LG OLED, or just function on both TVs at the same time, even though they were on opposite ends of the room. I was forced to unplug my LG OLED for this review.
What I
DID

Like:

Excellent motion clarity for a LED panel. I'm so used to most LED TVs having rather poor motion performance, as they tend to use cheaper panels or panels that aren't designed for gamers. Usually, you have to stick to a TN gaming monitor to get the best response times. However, I was very surprised with the P55-F1. Motion was quite smooth during fast pace gaming, and it was quite hard to tell the difference from my TN panel RL2460.

You'll have a hard time finding better motion clarity outside of OLED or a fast TN panel. If you enabled "Clear Action" for black frame insertion, the clarity was even better, giving almost CRT-like pixel response. I'm confident that VIZIO has one of the best black frame insertion modes in the business. The only downside to using "Clear Action" is that it can cause eyestrain and headaches, so YMMV.

Low input lag under HDMI 5. While HDMI 1-4 could have better performance in this regard, HDMI 5 was sublime and I couldn't detect any major problems with input lag once "Game Low Latency" was enabled. The 15ms input lag provided under this HDMI input is lower than many other competing TVs on the market, so it'll feel very responsive to even the most hardcore gamer.

Black levels are great for a LED TV. Even though it measured a 0.02 nits black level without local dimming enabled, you should absolutely enable local dimming on this TV, labeled "Xtreme Black Engine Pro" within the picture settings. I'd recommend choosing either the Medium or High setting, I personally found the High setting satisfactory. This will significantly increase your contrast ratio, especially during HDR content. While you'll still find halos around bright objects on a black background, it'll be tough to find better black levels unless you go to OLED, mainly because of the VA panel used in the P55-F1.

Color accuracy was great. Using the calibrated settings mentioned earlier in the review, I really enjoyed how the overall picture looked during gaming sessions in Spider-Man and God of War on the PS4 while playing in HDR. Though I have to admit that I'm quite spoiled by my LG OLED when it comes to overall picture quality, which is an unfair comparison.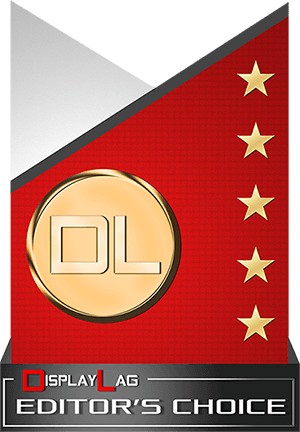 Summary
Build Quality -

9.5/10

Picture Quality -

9.5/10

Menu Options / OSD -

7.5/10

Input Lag -

9.5/10

Motion Blur / Response Time -

9.5/10

Value -

9/10
Summary
VIZIO's P55-F1 has a lot to offer at its current pricepoint. It's excellent motion response, low input lag, and great overall picture quality strike the most important factors in a gaming TV. The menus could be more responsive, and I would have loved to have seen the low input lag from HDMI 5 across all HDMI inputs. It's MSRP of $1,199 is steep, though it can be found for much less than this price brand new. Check the latest price via Amazon.