<strong>Affiliate Disclosure</strong>
This post may contain affiliate links. Clicking these links will redirect you to Amazon.com, and we will receive a small commission on purchases made through this link.
If you're a frequent visitor to DisplayLag, BenQ should be no stranger to you. As a market leader in creating low input lag displays, they've ventured into a number of displays over the years, with entry level TN monitors designed for speed, all the way to panels aimed at graphic design. With many advents in technology over the years and the push to 4K, this new resolution has already become the standard for home theater, and has crept its way into many monitors as well.
The EL2870U is BenQ's entry level option designed to get people into the 4K HDR craze, while still maintaining a price point under $500. For the purpose of this review, BenQ sent me a sample to give a test run. Keep reading to see what it's all about.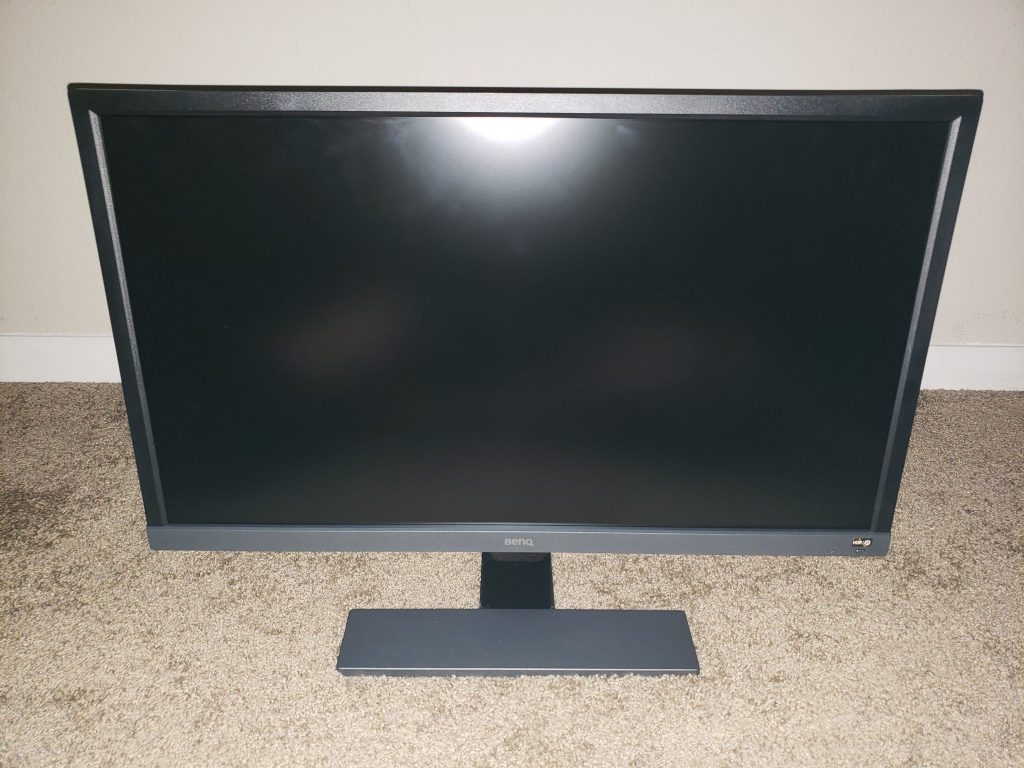 BenQ's EL2870U features a native 3840 x 2160 resolution at 60hz refresh rate, which is the current standard for 4K content. This panel is encased into a large 28″ screen size, which definitely envelopes you when you sit close. It supports HDR10 content, so you won't find HDR formats such as Dolby Vision and HLG here, but this is to be expected at the entry level price point.
FreeSync support is also present here, making the most of your AMD graphics cards, along with consoles such as the Xbox One (more on that later in this review). It sports a TN panel with an advertised 1ms GTG response time, which in theory should be plenty fast for your gaming needs. Full specifications can be seen by clicking the toggle below:
<strong>BenQ EL2870U Specifications</strong>
Main Specifications
Resolution (max.): 3840×2160
Screen Size: 27.9″
Backlight Technology: LED backlight
Resolution (max.): 3840×2160
Native Contrast(typ.): 1000:1
Viewing Angle (L/R;U/D) (CR>=10): 170/160
Display Colors: 1.07 billion colors
Display Area(mm): 620.9 x 341.3
DCR (Dynamic Contrast Ratio) (typ.): 12,000,000:1
Audio
Built-in Speaker: 2Wx2
Product Color: Metallic grey
Color Temperature: Reddish/Normal/Bluish/User mode
OSD Language
18 Languages (English / Francais / Deutsch / Italiano / Espanol / Polish / Czech / Hungarian / Romanian / Nether-lands / Russian / Swedish / Portuguese / Japanese / Chinese / S-Chinese / Arabic/ Korean)
Eye Care
Flicker-free Technology: Yes
Brightness Intelligence Plus (B.I.+): Yes
Video Enjoyment
Gaming
FreeSync: Yes
Connectivity
HDMI: HDMI (v2.0)x2
DisplayPort: DisplayPort (v1.4)x1
Power
Voltage Rating: 100 – 240V
Power Consumption (on mode.): <55W
Dimension and Weight
Dimensions (HxWxD mm): 657.9×476.27×194.6
Tilt (down/up): -5˚ – 15˚
Certification
TUV Certificate:
TUV Flicker-free, TUV LBL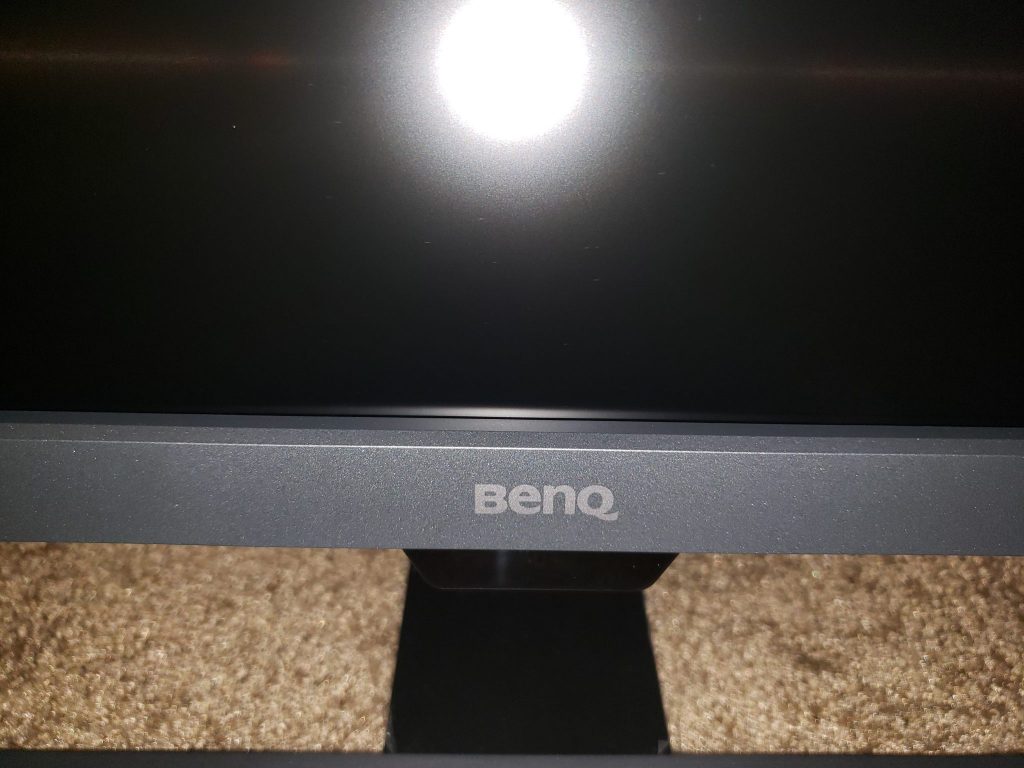 A departure from most of BenQ's displays, the EL2870U features a two-tone finish in both gray and black plastics, with the gray portion having a slight glitter effect under direct light. The monitor comes separated from its stand out of the box, which requires a quick assembly before you can take it for a spin.
Unfortunately, the stand contains no height adjustment, and due to its TN panel, it's important for you to place the monitor at eye-level for the best experience. It also cannot be swiveled, however its angle can be adjusted vertically to compensate for slight height differences. It would have been nice to see a fully adjustable stand, like their popular RL2460 gaming monitor.

The buttons for OSD control are located at the bottom of the monitor this time, instead of the sides like some of BenQ's other offerings. One great aspect of BenQ's OSD design is that the functions for the buttons appear on the screen itself, so you don't have to guess too much when trying to configure the monitor in a dimly-lit environment.
Compared to some of their other monitors, the OSD response is also much improved, though still doesn't quite match the speed of ASUS monitors. There is a small lag time when trying to browse the menus. Once this monitor is set up correctly, you shouldn't have to tinker too much when it comes to changing settings, so it's a minor annoyance.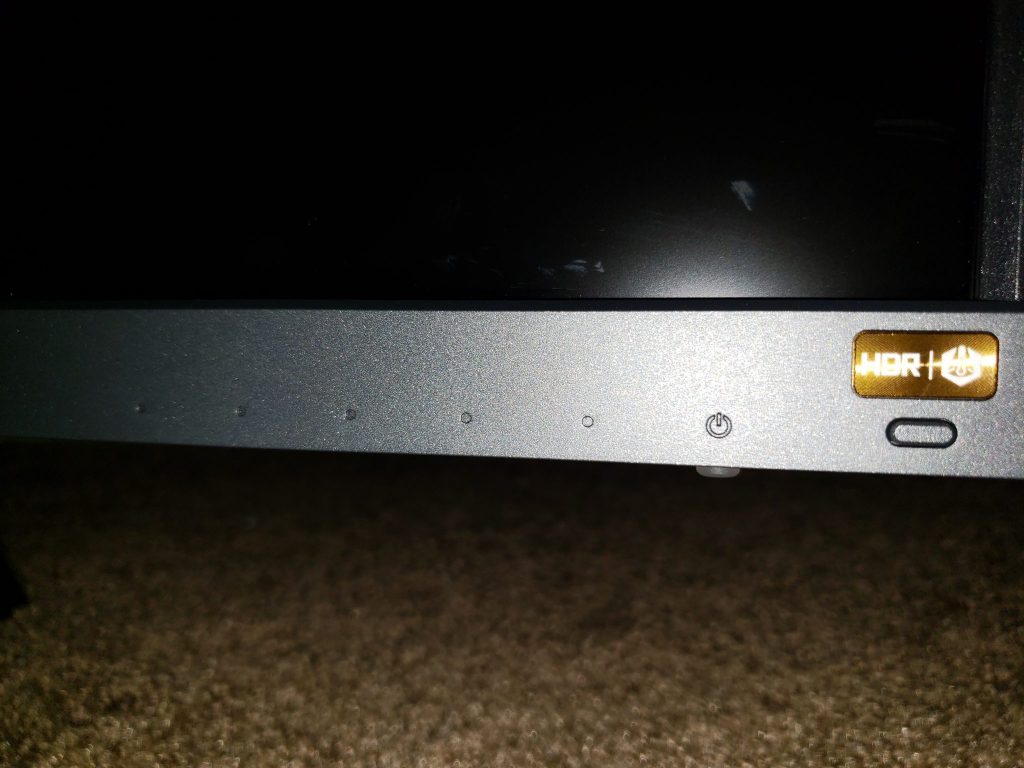 In terms of connectivity, BenQ's EL2870U features a good amount of digital connections for your devices. Two HDMI 2.0 inputs can be found to connect home consoles like an Xbox One or PlayStation 4, along with DisplayPort 1.4, which you'd ideally use for your PC. A headphone jack is also present for external audio devices, though I'd imagine most people will connect their audio directly to their system or controller of choice.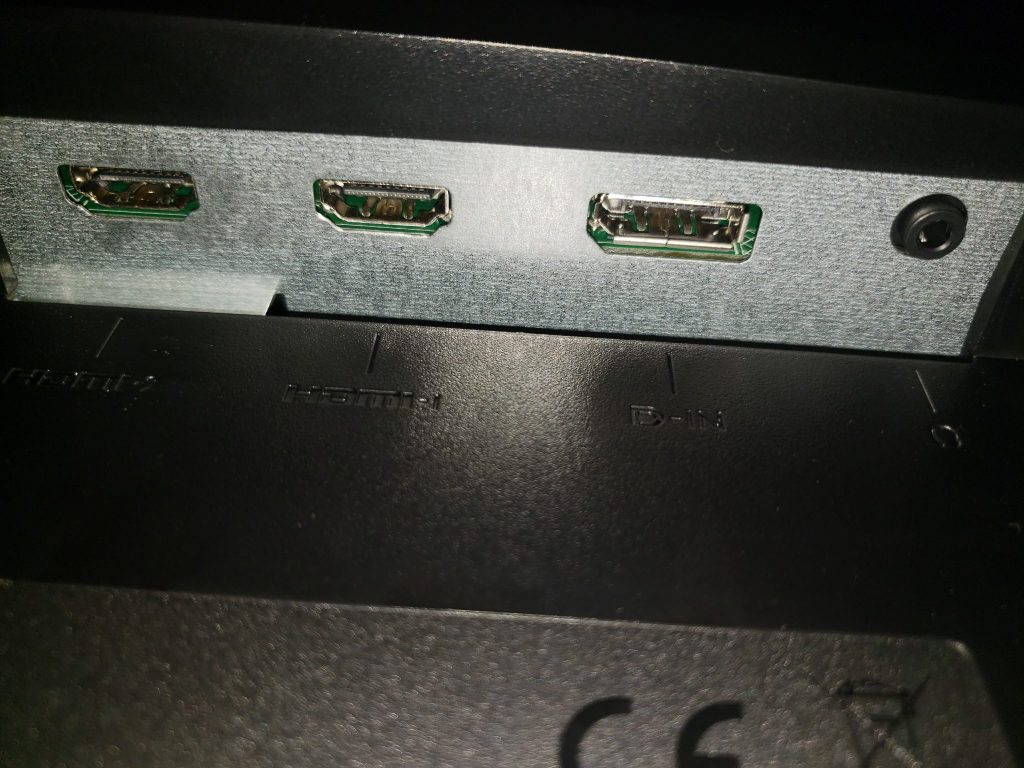 Picture Uniformity:
Uniformity is a common problem among most LED displays, with TN panels usually being the worst offenders in this category. Using out of the box settings, I measured the EL2870U across 30, 80, and 100 IRE signals to get an idea of how much deviation was present from the center of the screen.
In all three tests, the largest deviations can be seen across the top and bottom of the display, with a DeltaE variance of over 3 on most parts of the screen. Due to the limitations of TN panels, it's difficult to obtain color accuracy throughout the whole screen. The images below give some reference, though this is harder to notice while viewing actual content.
Picture Calibration:
When it comes to calibrating the EL2870U, BenQ offers the standard assortment of RGB configuration that's present in most of their models: a standard red, green, and blue adjustment slider, along with a bunch of preset picture modes depending on what you prefer out of the box. While out of the box modes such as Standard, sRGB, and Rec.709 had decent performance, I wanted to fine tune the monitor's SDR settings further and opted for the User picture mode.
This allows tuning of the gamma curve, along with the aforementioned RGB sliders to tweak color temperature. I managed to achieve a grayscale DeltaE average of 1.6, which falls under the recommended ceiling of 3.0 for accuracy, along with a color temperature of 6466 K. Black level was measured to be 0.16 nits, which is typical for TN monitors, as they don't usually reproduce great black levels. I measured a native contrast ratio of 769:1 under a brightness level of 120 nits, which is shy of BenQ's 1000:1 claim, though again typical for lots of TN displays.
In terms of color accuracy, the EL2870U measured at 96.4% coverage of sRGB color gamut, with deviations in red, green, and blue primaries from the intended targets. Overall accuracy falls in line with most TN panels, though I recommend looking at IPS panels if this is an important factor for you. Outside of calibration controls for accuracy, the EL2870U features some proprietary technologies to dynamically adjust the image.
One such feature is called Brightness Intelligence Plus (B.I.+), which detects the ambient light and color temperature in the surrounding environment to optimize picture quality. As this feature is mainly used to enhance viewing conditions in uncontrolled environments, I didn't utilize it for the purpose of this review.
Gaming Performance – Measured Input Lag:
One of the perks of sticking to low-cost TN monitors is that their input lag is unmatched when it comes to competitive gaming, as these panel types consistently offer around 10ms of input lag when measured. While many displays are capable of reaching our "Excellent" category now with under 20ms of lag, if you are a professional gamer and require frame-perfect response times, you want to stick to a display that's been measured to be around 10ms in our input lag database. Considering that BenQ's EL2870U does feature a 4K 60hz TN panel, how does it fare when put to the test?
Exceptionally well. As part of our new input lag testing process, we have acquired a new 4K input lag tester, which is capable of rendering a native 4K image, as opposed to having to upconvert our old 1080p lag tester. This allows us to measure the EL2870U at native resolution, while using a HDFury Vertex to inject HDR metadata.
Several 4K displays end up having different input lag values when measured between HDR and SDR formats, however the EL2870U maintains the same input lag in either mode. BenQ's EL2870U measured as follows:
Top: 1.4ms
Middle: 8.3ms
Bottom: 16.0ms
This result gives the EL2870U an average input lag rating of 9ms, which is an excellent result for serious gamers. This is the lowest amount of latency you can typically achieve in a 60hz display, and it should pose no problems for professional gaming at 60hz.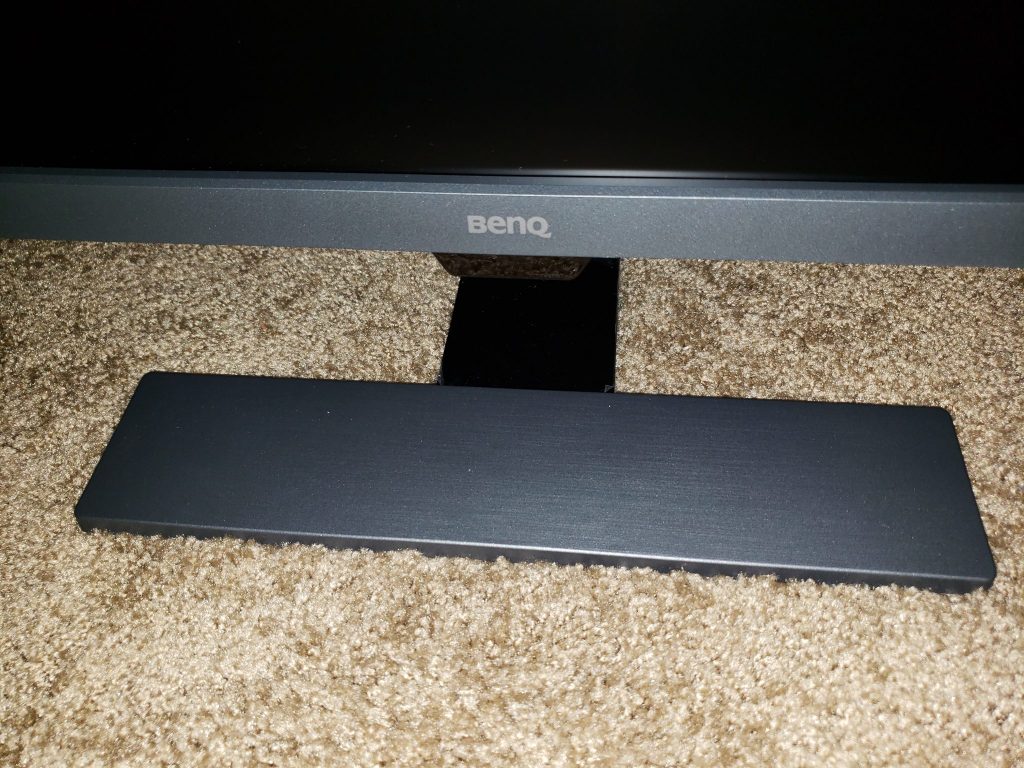 What I
DID NOT

Like:

HDR performance seems to be messed up, at least on the unit I received. Besides the limitation of the panel maxing out at 300 nits of brightness, engaging HDR mode on this monitor via Xbox One X resulted in elevated black levels and rather poor color accuracy/contrast ratio.

I'm quite experienced with HDR content across several TVs and even my Samsung Galaxy Note 9, so I'm sure that this isn't how the monitor is supposed to behave. Having browsed around the internet to dig deeper into this issue, I found several people that have encountered the same problem, though it seems to be related to defective samples.

Motion blur is present on this monitor, despite being an advertised 1ms GTG response time, coupled with a TN panel. I have extensive experience with BenQ's RL2460 pro gaming monitor, which I enjoy due to how it handles motion with its AMA processing.

The AMA processing on the EL2870U pales in comparison, even while set to High. The Premium setting causes too many artifacts to be usable during fast motion. Keep in mind that it's hard to notice if you aren't used to other 1ms GTG monitors. If you're coming from a TV, you'll be just fine.

Gamma is messed up out of the box. There are six levels of Gamma settings, ranging from 0-5, and all of them except 0 have poor shadow detail, and cause problems with dark scenes. Thankfully, gamma 0 is what we calibrated this monitor towards, which provides a gamma curve of 2.13, and fixes the black levels for SDR content. Make sure you switch this monitor to gamma 0 out of the box.
What I DID

L

ike:
Input lag feels crisp, thanks to the extremely low 9ms input lag that was measured earlier. After booting up Ultra Street Fighter IV and practicing links and combos with my main character Akuma, I was unable to detect any latency over other tournament-grade monitors I've used during competitions. Everything felt smooth to the touch without any adjustment necessary.
FreeSync worked without a hitch while testing it via the Xbox One X, allowing reduction of V-Sync stutters and some input lag. However, this monitor has a FreeSync range from 40-60hz, which means you don't want to use FreeSync in games that frequently dip below 60 FPS.
Color accuracy in SDR mode is quite good. Once the gamma was set to 0 to prevent grayscale problems and the screen was calibrated, skin tones and overall color looked great. While it won't compare to IPS, VA, or OLED panels in this department, I was happy with the SDR performance for a TN panel.

Summary
Build Quality -

8/10

Picture Quality -

5/10

Input Lag -

10/10

Response Time / Motion Blur -

8/10

Price -

9/10

Menu Options / OSD -

9/10
Summary
BenQ's EL2870U is a great choice for gamers that want a large monitor with extremely low input lag. While it's color accuracy in SDR mode is great for a TN panel, its HDR performance at the time of this review was poor, making it difficult to recommend for those buying this for HDR content. Motion performance could be better as well, though it's comparable to many TN monitors on the market. Click here to see the latest price from Amazon.