<strong>Affiliate Disclosure</strong>
This post may contain affiliate links. Clicking these links will redirect you to Amazon.com, and we will receive a small commission on purchases made through this link.
The push for 4K resolution and HDR (high dynamic range) has been at a record high over the last couple of years, mainly due to the increase in content available across today's media platforms. While many users have comfortably settled with 1080p TVs over the last decade, it's becoming increasingly difficult to find 1080p sets unless you go to the lowest-end displays. Price premiums for good quality 4K TVs are steadily declining, making it quite easy to find a good quality 4K TV well under $1500. While the market is saturated with the Samsungs, Sonys, and LGs of the TV industry, we are seeing some new players enter the fold with very competitive offerings. One of these companies is TCL, and they happened to send me their most interesting 55″ 4K TV for a review, the 55P607. This model comes with an attractive price for those on a budget, and should definitely be on your radar if you're in the market for an affordable gaming TV.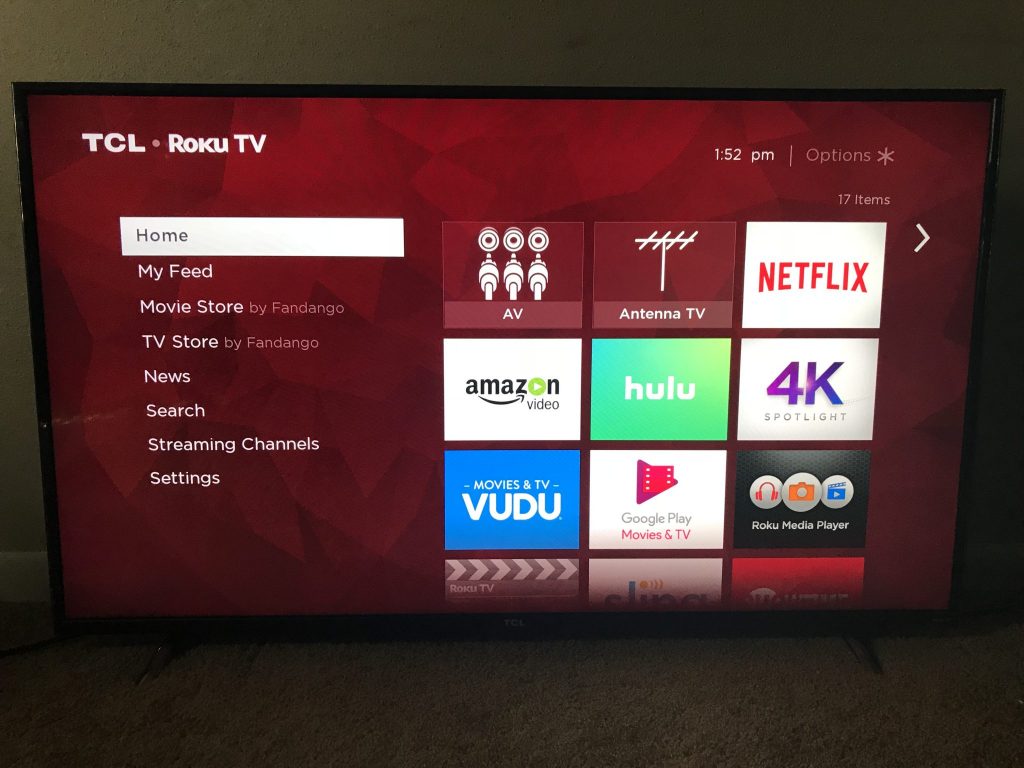 At first glance, the TV makes no attempt to turn your head. It's offered in a standard black casing that houses the majority of TVs on the market. It's supported by two plastic feet that have a solid feel, and don't give the impression of breaking easily. These feet have a metallic gunmetal finish, and do a nice job at complimenting the black casing. Bezels are quite thin, and shouldn't be distracting to anyone. An important thing to mention is that the feet are connected near the ends of the display, making it easy to place a soundbar in the center. It might seem like a small thing, but many TV manufacturers don't pay attention to this detail, and end up having a big base at the bottom center of the TV, making soundbar placement annoying while situated on a TV stand. TCL's logo is printed in a no-frills fashion, with a LED standby light that glows white just below it.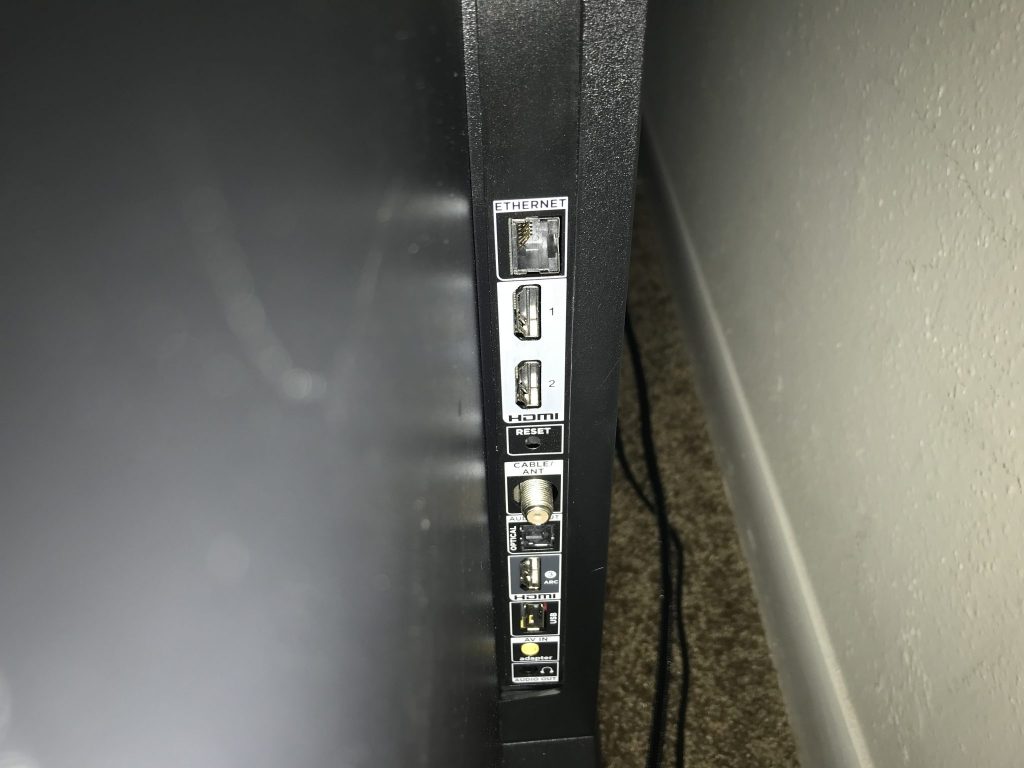 In terms of inputs. the P607 features a standard assortment found in most TVs on the market. It's equipped with 3 HDMI 2.0 ports that are fully capable of HDCP 2.2, an optical/TOSLink out, an ethernet port, cable and AV inputs, along with a headphone jack to use your own headphones. The power connection is located on the left side of the TV, separate from the input cluster. On the lower right side of the TV, there is a group of buttons used to navigate the OSD, if you happen to lose your TV remote or need direct access without one. The P607 also features 802.11ac Wi-Fi, so you don't need to use the ethernet port unless your router isn't up to snuff.
Speaking of the OSD, I was pleasantly surprised with TCL's offering. Having tested hundreds of displays over the years, it gets a little boring staring at your average black and blue menu systems. The OSD of the P607 takes a big depature from this, with a red colored background filled with a diamond cut design. It's also quite snappy in terms of response, with smooth transitions while navigating between menus. At first, I thought it might be an issue to have the TV power up to the central "Home Screen" every time, however this option can be configured to boot the TV into last used input, or another input of your choice.

In terms of configuration, TCL implemented a few clever quirks. By pressing the * button on the Roku remote, it brings up your standard calibration menu that allows you to configure TV brightness, picture mode, picture size, among other settings. An advanced calibration menu allows further tweaking, giving you access to controls such as brightness, contrast, local contrast (local dimming control), as well as "Game Mode" to reduce input lag once enabled. At first, I was quite bummed not to found any kind of 2pt or multi-point RGB calibration menu, which would have prevented me from tuning the picture for accurate performance. Upon further inspection, the 55P607 DOES feature an 11pt RGB calibration tool, however it is hidden away in the Roku app that you can download onto iOS or Android. Once downloaded, you can navigate over to the "Expert Picture Settings" option that is located under the settings menu. Here, you are able to configure picture mode, gamma, noise reduction, and color temperature presets. This implementation is quite clever, as it is much cleaner and faster to handle this task through your mobile phone, and the 11pt calibration allows a full 255 point adjustment for each RGB value. The thing I like most about their calibration implementation is that it still works under "Game Mode", something that I can't even do on my LG B7A OLED TV. LG doesn't permit fine tuning of RGB values under "Game Mode", and your only option is to force an input to PC mode to achieve low lag and multi-point calibration.
Even though this TV is only available in 55-inches, there are actually two models of this TV: the P605 and the P607. They are identical, except that the P607 model includes a special Roku TV remote. This remote is a bit of a departure from your standard TV remotes, forcing you to sync it to the TV using an internal button on initial setup. There is a benefit to doing this: you don't have to point the remote directly at the TV to control it! Even if you cover the IR blaster on the top of the remote and point it away from the TV, it still controls the TV just fine. This is useful if you happen to have a large soundbar that can sometimes block the IR port of your TV. In terms of feel, the remote feels quite ergonomic in your hand. It has decent weight, the plastic doesn't feel cheap, and the buttons are sized well and feel nice to the touch. The remote features shortcuts to Netflix, Sling, Hulu, and Starz on the bottom, as well as search function to utilize voice control search. This worked quite well in my testing, as long as you speak directly to the microphone located below the power button. The right side of the remote features volume control as well as a mute switch, and the left side features a headphone jack, a useful addition for those that don't want to have a wire dangling from the TV.
The sound quality is nothing special, and resembles what's found in most TVs on the market. It's good enough to hear dialogue and the overall soundtrack, but don't expect any presence in the low-end, or dynamic range. You will definitely want to use a sound bar or home theater system for this TV.
<strong>TCL 55P607 Full Specifications (Toggle)</strong>
TCL Series – P607
Model
55P607
Screen Size
55″
Viewable Display Size
54.6″
Description
Premium Picture HDR 4K TV
UPC
846042008228
Wi-Fi
802.11ac 2×2 Dual Band (support 2.4GHz & 5GHz)
Processor Type
CPU: Dual-core / GPU: Dual-core
Features
Advanced PQ Setting with Mobile App
Yes
Control Buttons
Power/Menu, <,>
Multilingual On-Screen-Display
English, Spanish, French
Closed Caption
Yes
Parental Control (V-Chip)
Yes
Accessible Menu System (CVAA)
Yes
Sleep Timer
Yes
Audio
Audio Power (Watts)
2 Channel x 8W
Audio Passthrough
Dolby Digital Plus
Dolby Processing
Dolby Digital
| Smart Platform | Signal Format Compatibility |
| --- | --- |
| Roku | ATSC / NTSC / Clear QAM |
Display
Clear Motion Index
120Hz CMI
Panel Resolution
3840 x 2160
Resolution
UHD
Display Colors
1.07 billion
High Dynamic Range Format
Dolby Vision and HDR10
Contrast Control Zones
72 zones
Connections – Inputs/Outputs
AV Input
Composite + L&R Video
Audio Output (RCA)
No
VGA
No
RF Input (NTSC, ATSC)
1
Ethernet
1
USB
1 USB2.0
HDMI
3 HDMI 2.0 w/HDCP 2.2 (1 ARC)
SPDIF Digital Audio Optical
1
Audio Output Headphone
1
YPbPr (Component Video) Input
No
| Product & Package Information | 55″ |
| --- | --- |
| Product Size (WxHxD) with Stand | 49.0″ x 30.1″ x 8.3″ |
| Product Size (WxHxD) without Stand | 49.0″ x 28.3″ x 3.0″ |
| Stand Separation Distance | 38.6″ |
| Product Weight with Stand (lbs) | 33.1 lbs |
| Product Weight without Stand (lbs) | 32.6 lbs |
| Package Size (WxHxD) (Inches) | 55.1″ x 34.4″ x 7.0″ |
| Total Package Weight | 51.8 lbs |
VESA Mounting Specifications
VESA Hole Pattern
200mm (V) x 200mm (H)
Screw Size
M6 x 18
Base Stand Specifications
Screw Size (Qty)
M5 x 35 (4)
Energy Information
Energy Star
No
Standby Power
<0.5W
Accessories (Included)
Warranty Info / Quick Start Guide (QSG)
1/1 English
Remote Control
Roku TV Advanced Remote with Headphones RC64
Remote Control Battery
Two "AA"
Warranty
1 year limited warranty
Panel Uniformity:
Panel uniformity is something that tends to be quite problematic in screen sizes north of 55-inches, however it is a mixed bag on the P607. The panel doesn't degrade much in terms of luminance from the center of the screen, showcasing only a 5% drop in luminance on the top left and bottom left portions of the screen. However, the color temperature does exhibit a significant variance from the center of the screen, particularly on the bottom corners of the screen, as well as the right side of the panel. This deviations drop the color temperature as high as 400 K off center, so the picture will appear slightly warmer in these areas. I wasn't able to detect this deviation in normal viewing, but it's there. Keep in mind that uniformity tends to vary significantly across different samples of the same display.
Picture Calibration – Standard Dynamic Range (SDR):
It's rare to find displays within this price range that include a multi-point grayscale configuration, but TCL was generous enough to include this option, provided you download the Roku smartphone app. Without the app, you are limited to the presets that TCL has calibrated such as Normal, Cool, and Warm. TCL's calibration out of the box wasn't too far from the target 6500 K that I normally calibrate for in Movie mode, but still needed some fine tuning. Due to the fact that I would primarily use this as a gaming display, I decided to calibrate the Movie preset with Game Mode enabled, in order to achieve the lowest input lag possible. Thanks to the multi-point grayscale calibration, it allowed me to fine tune the P607 to achieve truly remarkable grayscale accuracy, even under Game Mode. This resulted in an average DeltaE value of 0.4, well under the recommended average of 3.0, along with a contrast ratio of 5129:1. Average gamma tracked extremely well at a near perfect 2.2 to meet Rec 709 standards. I found that keeping Game Mode enabled under the Movie preset presented a pleasing picture overall, so I didn't find a reason to disable Game Mode for minuscule differences in accuracy. The backlight was adjusted to achieve a dark room brightness of 120 nits, which also resulted in a black level of 0.02 nits. This is with local dimming disabled, so you can significantly boost perceived contrast ratio and achieve darker black levels by setting the "Local Contrast" setting to High.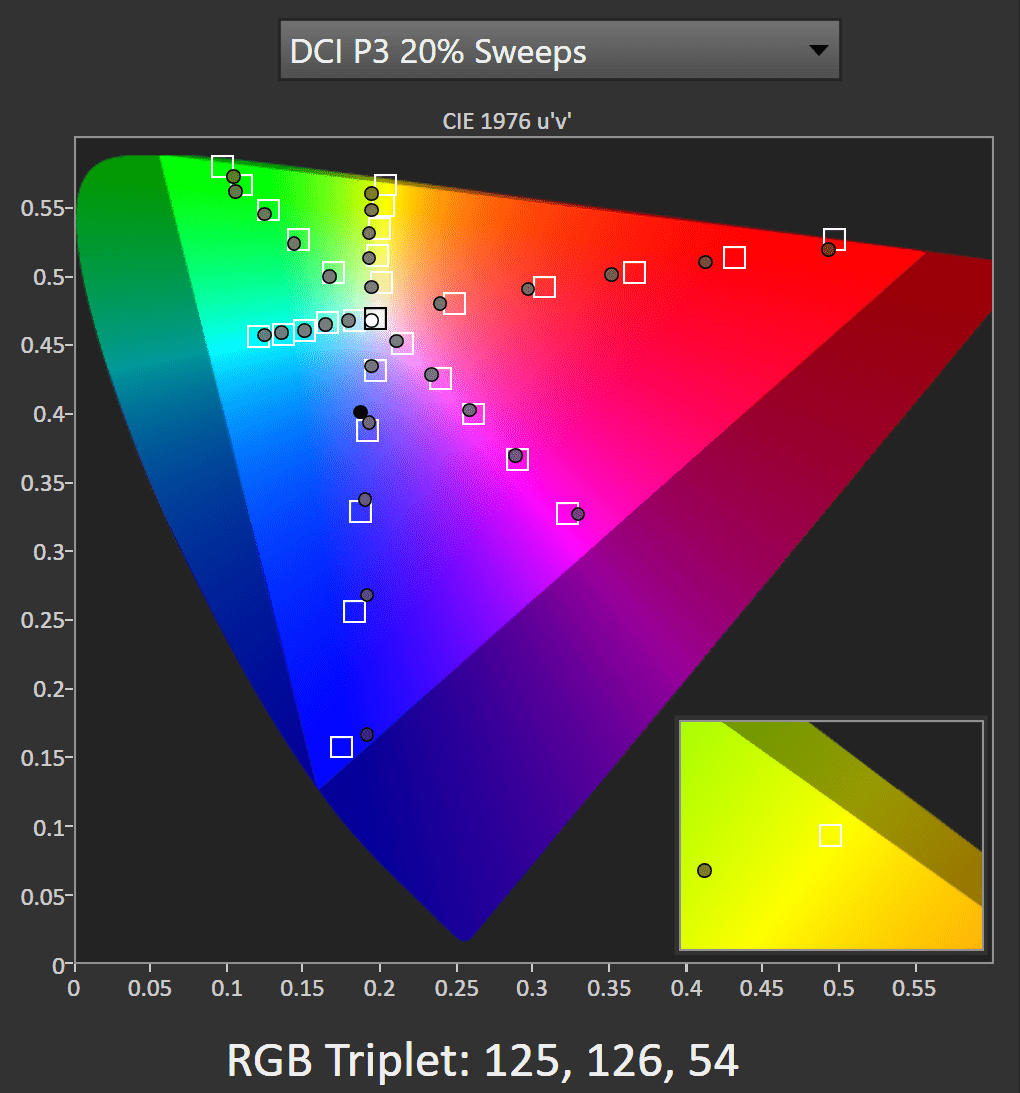 Picture Calibration – High Dynamic Range (HDR):
The calibrated settings for SDR fared quite well with HDR content as well. The only setting that needed adjustment was the "TV brightness" setting, which allows you to choose between different backlight presets, separate from the brightness and backlight controls. The P607 managed to reproduce 92% of the DCI P3 color space thanks to its wide color gamut, and tracked quite well along the EOTF curve using calibrated SDR settings. The peak brightness achieved on the P607 was 583 nits, which is sufficiently bright for HDR content, though not as bright as some higher-end LED TVs.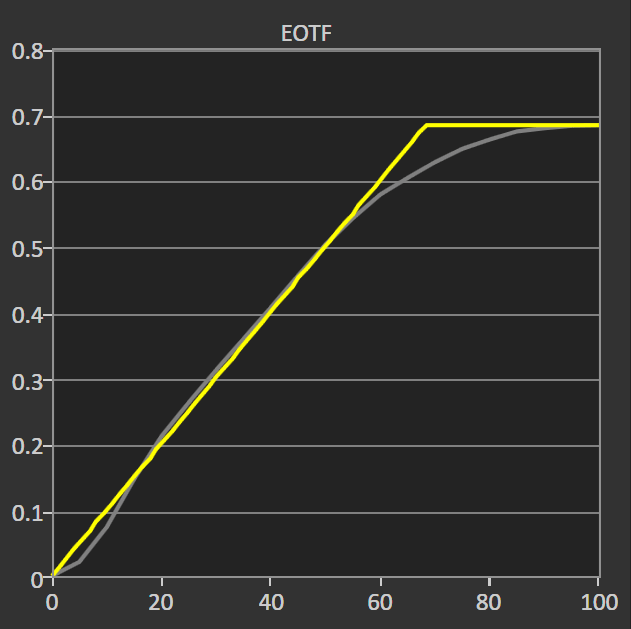 Our calibrated settings can be found in the images below. Make sure you download the Roku app on iOS/Android, otherwise you will not be able to perform the 11pt calibration:
Picture Review:
After calibrating the P607 to achieve enough accuracy for critical viewing, I put the TV through its paces with several pieces of SDR and HDR content. It's important to note that the P607's local dimming plays a huge role in the TV's contrast ratio, and I highly recommend enabling it to get the most out of the P607. Without it, your black levels can suffer. Personally, I set it to "High" and re-calibrated the picture to achieve 120 nits brightness in a dark room setting. I used my Xbox One X set to output at 10-bit color gamut, along with Limited black levels, so it sent reference video levels to the TV.
As expected, grayscale performance was extremely good. Colors appeared to be natural, without any oversaturation in skin tones or deep RGB colors. With the local contrast set to "High", the P607 did a good job at darkening scenes where the majority of the video signal was dark. I noticed that the "High" setting can be slightly aggressive compared to the lower presets, but it didn't bother me enough to where I wanted to change it, as I preferred darker black levels. During the dark scenes in the first episode of Netflix's Punisher, I was able to resolve enough shadow detail in the scene with Frank Castle brawling with his 3 co-workers towards the end of the episode.

In terms of gaming, I played through the beginning parts of Gears of War 4's second act, when JD and the squad encounter Marcus for the first time. There are scenes on this level where you can look at the moon and notice the effects of HDR right away, and the TV achieved enough brightness to where the benefits of HDR were quite visible. The grayscale was quite similar to SDR mode, and I couldn't really discern any significant difference in this regard. However, HDR mode allowed for a wider color gamut and deeper dynamic range, which definitely made a difference in perceived contrast.
I do have a few complaints with the overall picture quality however, mainly due to the TV's viewing angle. The P607 isn't a strong performer when viewed from the sides, as there is a significant shift in gamma and contrast. While this is a common problem with most LED TVs, I found it to be a bigger problem on the P607 in comparison. Below are some screenshots with Blue at 100 IRE to showcase the problem. You'll notice a purple hue when viewing angle has shifted too far in any direction, though it doesn't look this pronounced in actual content. If you mostly view the TV head-on, level with your eyes, you shouldn't have any issues.
Gaming Performance – Measured Input Lag:
The main reason that the TCL 55P607 received a bit of a cult status is due to its extremely strong gaming performance. Around the time 4K TVs started entering the market, they offered sub-par gaming performance, with input lag as high as 60ms under game mode. This made it extremely difficult to perform any serious gaming. Things have changed significantly for the better in 2017, with many 4K TVs offering under 30ms of input lag under game mode. However, many of these TVs tend to be priced north of $1000, which makes it less accessible to gamers on a budget. So, how does the P607 fare when it comes to gaming? Exceptionally well.
Top: 6.8ms
Middle: 14.2ms
Bottom: 21.5ms
With game mode enabled, the P607 achieves remarkable results for input lag across all types of picture modes, with an average input lag of 14ms. This includes 1080p sources being scaled up by the TV, native 4K sources, and 4K HDR content as well! There was quite a bit of outrage last year when some brands exhibited higher input lag while under HDR mode, which became quite problematic for gamers wanting to experience HDR. It's great to see that TCL achieved low input lag results across all types of input sources, so gamers don't have to worry about input lag during serious gaming. To test it further, I booted up my copy of Ultra Street Fighter IV to nitpick its gaming performance.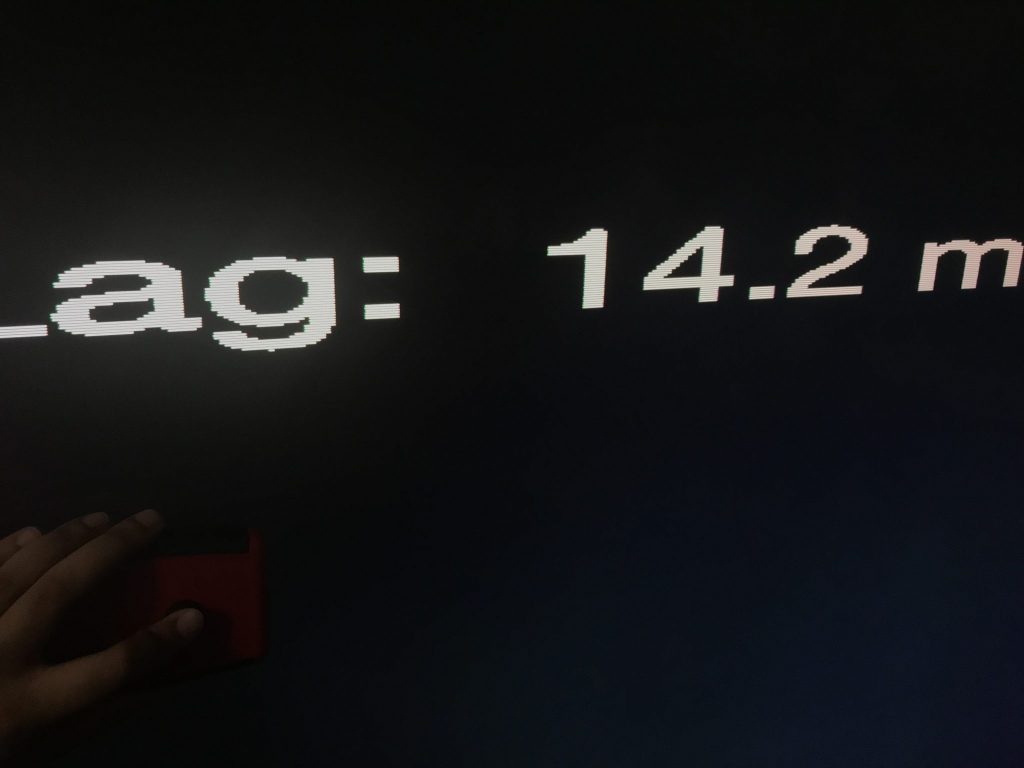 It was extremely difficult to notice the difference between a fast gaming monitor and the P607 when it came to Ultra Street Fighter IV. I was able to connect 1-frame link combos that typically require adjustment when playing on TVs with higher lag. If there is an adjustment coming from a gaming monitor, it's quite minimal, as my brain was able to adapt to it instantly without much effort. Unfortunately, most modern fighting games have higher input lag in their engines, along with longer buffer windows, which makes it difficult to feel the difference between 1-frame timings. Nevertheless, the TV felt great when playing Street Fighter V and Tekken 7 as well. I was able to execute korean backdash techniques in Tekken 7 with similar timings to a fast gaming monitor With that said, there is something I wasn't too happy about, and it was the motion performance during fast gaming, which I break down in more detail below.

Response Time / Motion Blur:
An area where I feel the P607 is a bit lacking is in its motion performance, which becomes a big deal in gaming applications. While it's more difficult to notice in 24hz and 30hz content, it becomes apparent when 60hz content is displayed, particularly during fast motion scenes and camera pans. While the P607 has a Clear Motion Index (CMI) rating of 120hz, it's native panel refresh rate is 60hz, which is common for TVs in this price range. Particularly during my sessions with Ultra Street Fighter IV and Tekken 7, I noticed motion blur while the characters particularly during movements such as dashing and fast walking. This is similar to gaming monitors when their over drive setting is completely disabled, though a touch better than that. Most gaming monitors incorporate different levels of over drive to reduce this type of blur, in exchange for some motion artifacts that are difficult to see during real content. I would have liked to have seen some kind of over drive implementation on the P607, even though it's not a common thing in TVs. It would help in situations like this where the panel has some trouble keeping up with fast motion. Most people probably won't notice it at all, but if you're coming from a fast TN gaming monitor, the difference is there. The screenshot below from TestUFO gives an idea of how it looks during fast motion, while under Game Mode.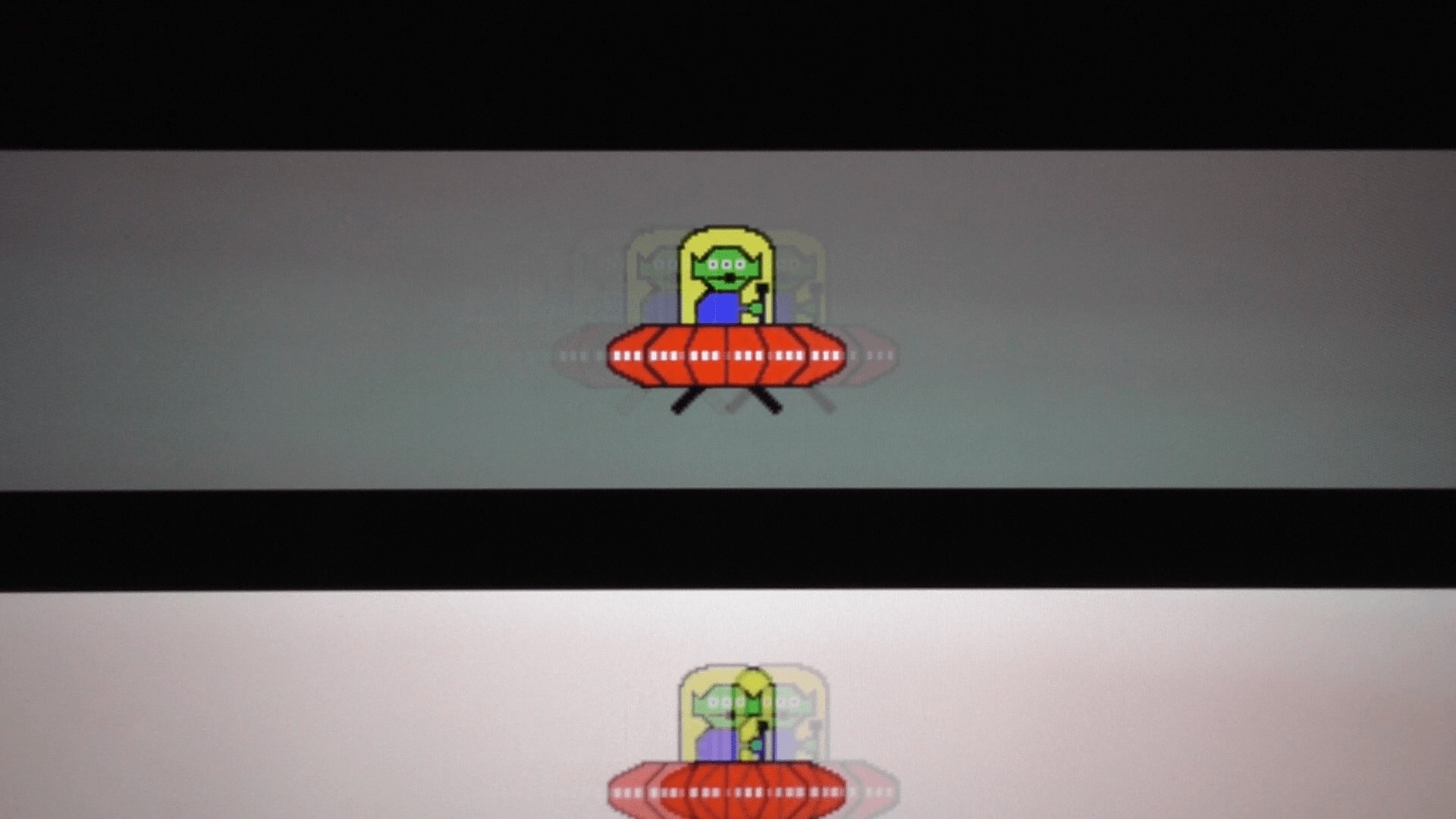 _____________________________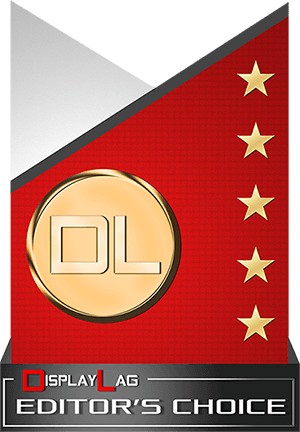 Summary
Build Quality -

9/10

Picture Quality -

8.5/10

Menu Options / OSD -

9.5/10

Input Lag -

9.5/10

Response Time / Motion Blur -

8/10

Price -

9.5/10
Summary
TCL's 55P607 presents an excellent value for budget gamers. It's extremely low input lag across all picture modes is a rare find in most UHD TVs, and it offers a great suite of calibration options for those seeking accuracy. While motion performance is a bit lacking, it's still hard to find a better deal at this price point. Click here to check the latest price on Amazon.