<strong>Affiliate Disclosure</strong>
This post may contain affiliate links. Clicking these links will redirect you to Amazon.com, and we will receive a small commission on purchases made through this link.
If you've visited this site within the last year, you've no doubt come across our glowing review of TCL's 6-Series, one of the most impressive values in the TV marketplace even today. The Chinese manufacturer is making big strides every year to earn its place into the American marketplace, and their presence at CES 2019 reflects this.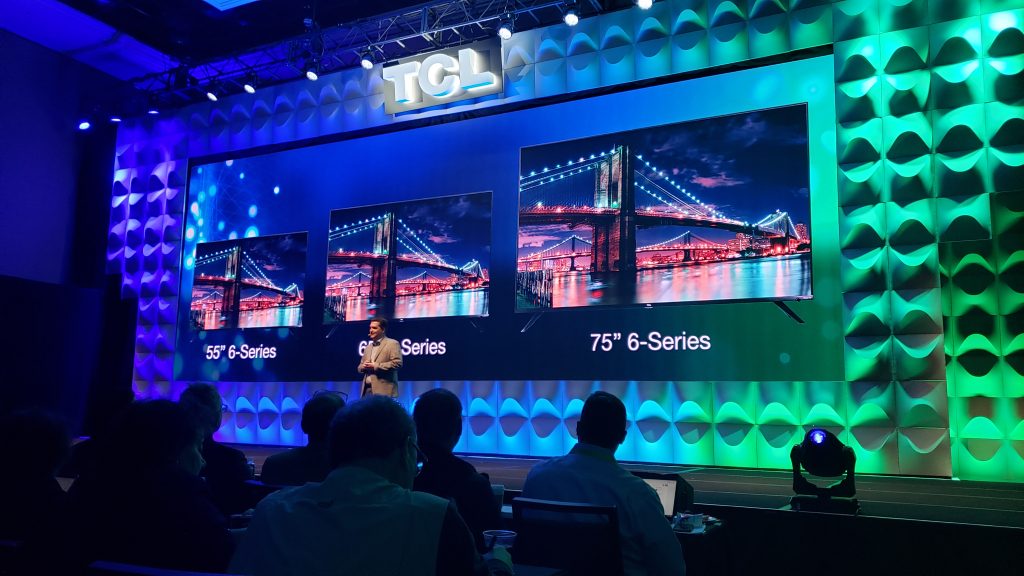 Starting with their press conference on Monday, TCL announced that their popular 6-Series TV from 2018 will receive a 75″ version, no doubt a result of consumers asking for this TV in a larger screen size. The 6-Series was previously only available in 55″ and 65″ screen sizes. We reviewed the 55″ model last year, which earned our Editor's Choice award.
This model can be purchased from Best Buy currently with a suggested price of $1800 right now, and will be on sale at other retailers in the coming weeks.
Dolby Vision Update for Xbox One
Another pleasant surprise from their press conference was the announcement of a firmware update for existing 5-Series and 6-Series owners. This update will enable Dolby Vision for Xbox One consoles, a welcome addition that increases the value proposition offered by TCL from their lineup.

TCL brings 8K in 2019
TCL was my first press conference on Monday, so you can imagine my shock when they unveiled that their 8K TVs will be shipping in 2019. TCL has joined other manufacturers in pushing 8K adoption, though I imagine that many people will be content with 4K for quite some time. Their first 8K model falls under their new 8-Series umbrella, and will be sporting a Quantum Dot (QLED) display.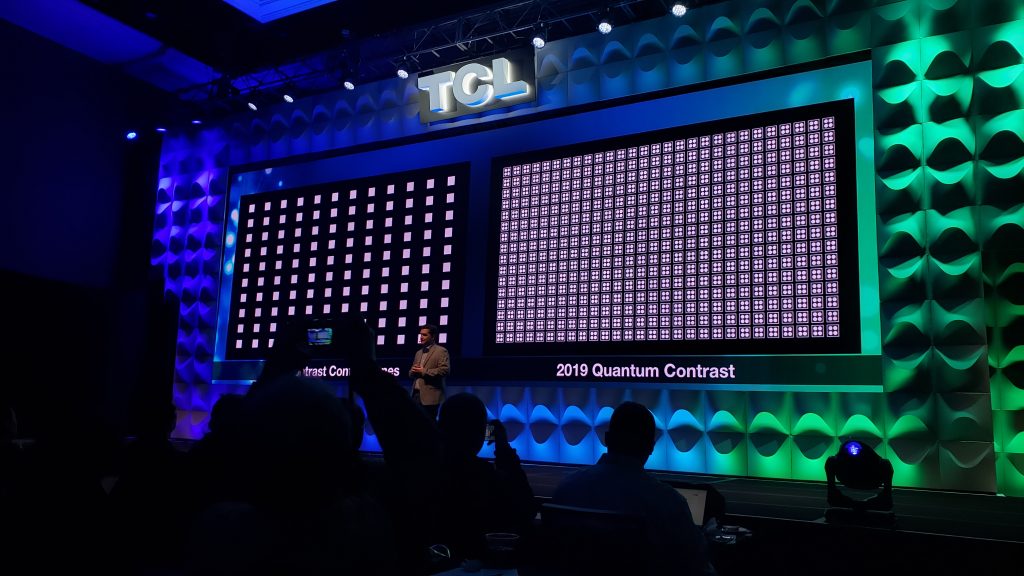 In an effort to boost black levels among their new LCD TVs, TCL intends to dramatically increase the amount of Contrast Control Zones by utilizing Quantum Contrast in their Quantum Dot 8-Series TVs. Powered by mini-LED, this aims to dramatically boost the amount of local dimming zones by up to 300%.
TCL utilizes mini-LED tech to increase the amount of zones that can be dimmed, which may end up significantly removing halos and other artifacts caused by inadequate local dimming solutions.
I managed to take a brief look at their 8-Series 8K TV on the show floor. While the concept of 8K TVs is enticing, the industry hasn't fully matured with 4K content yet. Many broadcasts are still presented below 4K resolution, console games are rarely rendered in native 4K, and PCs require a significant investment to push native 4K beyond 60 frames per second.
But what if you don't care about all this 8K stuff, and just want TCL's Quantum Dot magic with its boosted local dimming zones? You're in luck, because TCL will be offering the 8-Series in a 4K variant as well! This TV will carry over most of the important features from the 8K model, with 4K resolution instead.
This will be an attractive option for those that don't want to fork over the extra dough on 8K. The 8-Series aims to be TCL's high end lineup in 2019, with the 6-Series keeping its budget-conscious proposition.

TCL revises 6-Series for 2019
The 6-Series is still being retained in 2019, though much information wasn't available to me in terms of what's new. I was told to expect picture quality improvements, and more information would be announced at a later date. However, the 6-Series is sporting a new look compared to the 2018 model. You can check it out in the gallery below:
Input Lag and Gaming Performance
While TCL wasn't able to provide concrete input lag data to me regarding their 2019 models, they are very aware of the low input lag present in their previous models, and will be making every effort to provide a great gaming experience across their entire lineup.
I stressed the importance of low input lag to their team, so it will be interesting to see how these new models, especially their Quantum Dot lineup, fares with input lag. Hopefully they will continue to earn our excellent rating for serious gaming.
Be sure to check out our input lag database to find the best TV or monitor for gaming!